| | |
| --- | --- |
| Moolavar | : Vaidyanathar |
| God | : Thaiyalnaayaki |
| Tree | : Siddhamritha |
| Theertham | : Vembu |
Vaitheeswaran Koil : Shiva is worshipped as Vaitheeswaran or the "God of healing" and it is believed that prayers to Vaitheeswaran can cure diseases. It is one of the nine Navagraha (nine planets) temples associated with the planet Mars (Angaraka). The village is also known for palm leaf astrology called Naadi astrology in Tamil.One of the nine planets, Angaraka (Mars), suffered from leprosy and was cured by Vaidhyanathaswamy. Shiva is considered to be the Divine Healer called Vaidyanathar. His consort Thaiyalnaayaki is said to accompany him with a vessel containing medicinal oil. There is also a shrine dedicated to Dhanwantari here. The prasadam offered at this temple is Thiruchaandu Urundai placed at the Thaiyalnayaki shrine and distributed.Another prasadam offered here is sandal paste referred to as Nettirapidi Chandanam.Lord Shiva in this temple is swayambumurthi.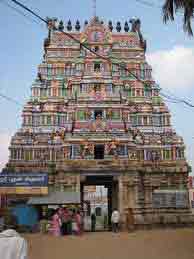 Location : It is located 7 kilometers from Sirkazhi, 235 kilometers from Chennai, 27 km from Chidambaram, 110 km from Thanjavur and 16 km from Mayiladuthurai.
Contact : 04364 - 279423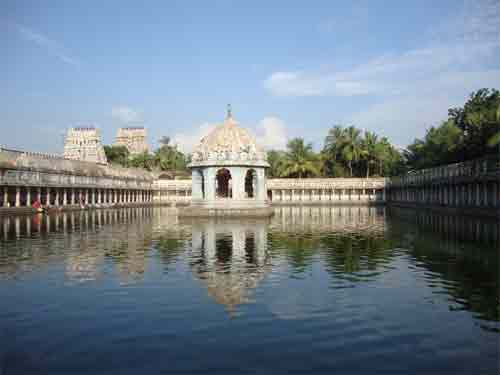 Other Temples near Vaitheeswaran Temple
| | |
| --- | --- |
| Temples | Distance |
| Sirkazhi | 6 Kms |
| Mayiladuthurai | 14 Kms |
| Thirukadaiyur | 36 Kms |
Distance between Vaitheeswarar Temple to other Navagragha Temples
| | |
| --- | --- |
| Temples | Distance |
| Suryanar Koil | 37 Kms |
| Thingaloor | 93 Kms |
| Thiruvengadu | 14 Kms |
| Alangudi | 67 Kms |
| Kanjanur | 28 Kms |
| Thirunallar | 53 Kms |
| Thirunageswaram | 58 Kms |
| Perumpallam | 37 Kms |
Pooja Timing
Daily Poojas at Temple
Darshan Timings :
Morning - 06.00 AM - 01.00 PM
Evening - 04.00 PM - 09.00 PM