| | |
| --- | --- |
| Moolavar | : Naganathaswamy |
| God | : Girigujambika, Pirayaniamman |
| Theertham | : Sula theertham |
Thirunageswaram Temple: Thirunageswaram is one of the 127 temples on the southern banks of river Cauvery. It is one of the Panchakrosa Sthalas. The presiding Deity is Arulmigu Giri Gujambika Sametha Naganathaswamy. The Raaghu Sannathi ( Nagaraja Shrine)is on the South-West direction of the second prakara.Raaghu, the Naga (Serpent) King worshipped the Lord Siva. Hence this place was named as 'Thirunageshwaram'.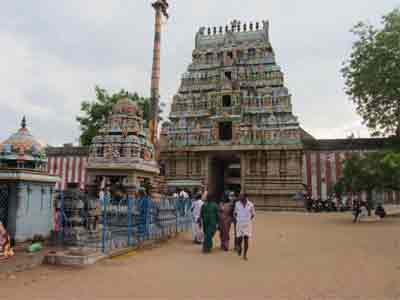 Rahu had received a boon from Siva for bestowing grace and prosperity to those who worship him with devotion. He took His abode as God with His two consorts. There is another shrine for Amman, where Devi is seen in three forms as Lakshmi(godess of wealth), Girigujaambaal (sakthi) and Saraswathi (godess of knowledge). As per the Sthalapuranam, there are two Shrines (Sannidhis) for the Presiding Deity (Moorthi) at this sthala, the colour of milk changes from white to blue during Abhishekam. On 16.2.86, a snake had shed off its outer skin on Rahu Bhagavan, which is preserved and worshipped to date. People having Rahu dosha come here during Rahu kalam and perform Abishekas. The Jothisha Sastra (Astrololgy) states that if Raaghu is in good position in one's horoscope. He will bestow all prosperity (including Raja Yoga ) to him and that person becomes a Kubera. If he is not in a good position and guilty ( Dhosha ) a person gets worst results and his life will be miserable. Therefore one should satisfy Raaghu (one of the 9 planets) by worshipping Him. One's marriage will be delayed if Rahu is in the 7 th place in a horoscope. If he is in the 5 th place, the Jaathaka (person) will not beget a child. In order to nullify Kalasthra dhosha, Naga dhosa and Putra dhosha one should worship Raaghu. People afflicted with Nagadhosa should perform oblations.
Location:
Thirunageswaram is located 6 km from Kumbakonam on Karaikal road. Nearest Railway station is at 2 k.m far at Theprumanallur (Thirunageswaram). Oppiliappan kovil is the nearest temple.
Contact: 0435 - 2463354
Other Temples near Rahu Temple
| | |
| --- | --- |
| Temples | Distence |
| Kumbakonam | 5 Kms |
| Kollumangudi | 28 Kms |
| Uppilliappan Koil | 0.5 Kms |
Distance between Rahu Temple to other Navagragha Temples
| | |
| --- | --- |
| Temples | Distence |
| Suryanar Koil | 20 Kms |
| Thingaloor | 48 Kms |
| Vaitheeswarar Temple | 58 Kms |
| Thiruvenkadu | 72 Kms |
| Alangudi | 22 Kms |
| Kanjanur | 23 Kms |
| Thirunallar | 51 Kms |
| Perumpallam | 108 Kms |
Pooja Timing
Daily Poojas at Temple
Darshan Timings :
Morning - 06.00 AM - 01.00 PM
Evening - 04.00 PM - 08.30 PM