| | |
| --- | --- |
| Moolavar | : Kasi Viswanathar |
| Goddess | : Usha and Chayadevi |
| Theertham | : Surya Pushkarni |
| Sthala Vriksham | : Vellerukku |
Suryanar Koil :Suryanar Koil, is built by King Kulothunga Chola I in the year 1100 AD.This is a temple dedicated for the nine planets – Navagrahas. The devotee can worship all the planets as presiding deities.The SUN is the prime deity. Usha devi and Sri Purusha devi(Chaya devi) are the consorts.Sun god holds two lotus flowers in his hands It is king of kings in the Navagraha planets. It is at a distance of 93,00,000 miles from earth. He is the owner of Simha Zodiac. He Circumvent the earth in a year. He is in Ticha(High) power in Mesha Rasi. Lord SUN represents father. He gives emergy, will power, faithfulness, obedience, strength, might, attracting others. SUN is the son of Kachyapa Muniver. The temple sannadhi is facing west. The temple is under the administration of Thiruvaduthurai Adhinam. The vechicle of the lord is horse. This horse is named Sabtha Sabtham. It indicates the seven horses of the sun's Chariot.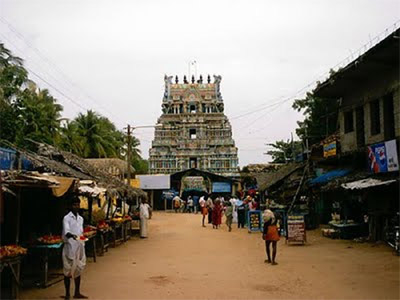 Festival : 10 day Ratha Sapthami in Thai month (January-February) is a very important festival in the temple.Also Saturn (Sani) and Jupiter (Guru) transition days are celebrated with special pujas.
Location : The temple is located in a small village called as SuryanarKoil and is about 2Km. north of Aduthurai town. Suriyanar Kovil is located at Thirumangalakkudi(near Aduthurai, Kumbakonam). The nearest railway station is Aduthurai which is in between Kumbakonam and Mayiladuthurai railway line.
Contact : 0435 - 2472349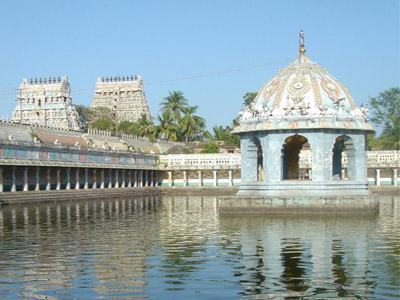 Other Temples near Suryanar koil
| | |
| --- | --- |
| Temples | Distance |
| Swamimalai | 24 Kms |
| Kumbakonam | 15 Kms |
| Aduthurai | 3 Kms |
Distance between suryanar koil to other Navagragha Temples
| | |
| --- | --- |
| Temples | Distance |
| Thingalore | 58 Kms |
| Vaitheeswaran Koil | 37 Kms |
| Thiruvengadu | 45 Kms |
| Alangudi | 32 Kms |
| Kanjanur | 3 Kms |
| Thirunallar | 76 Kms |
| Thirunageswaram | 20 Kms |
| Perumpallam | 46 Kms |
Pooja Timing
Daily Poojas at Temple
Darshan Timings :
Morning - 06.00 AM - 12.30 PM
Evening - 04.00 PM - 08.00 PM