| | |
| --- | --- |
| Moolavar | : Naganatha Swamy |
| God | : Sowndara Nayagi |
| Theertham | : Naga Theertham |
| Thalaviruthcam | : Bambo |
Thirunageswaram Temple: Keezhaperumpallam is one of the nine Navagraha sthalas located in the Cauvery Delta region dedicated to shadow planet Ketu. Both the Devas and Asuras wanted to get Amirtham from the Pargadal(Milk Ocean). Thirumal as in the shape of Mohini was distributing Amirtham to the Devas. At that time Swarvabanu took divine shape sitting between the sun and moon received the Amirtham and ate it. This was informed to Mohini by the sun and moon. Mohini was keeping a long sppon in her hand and she hit the Asuras head heavily. The Asuras head and the body were separated. The head part goes to Lord kethu. The devotees may get certain defects caused by Kethu as Nagathosam, Kethu thosam Marriage thosam, children thosam, snake thosam, defects of the former birth are redressed when they pray here. He is a fearless planet doing all good for the devotees belonging to his Rasi.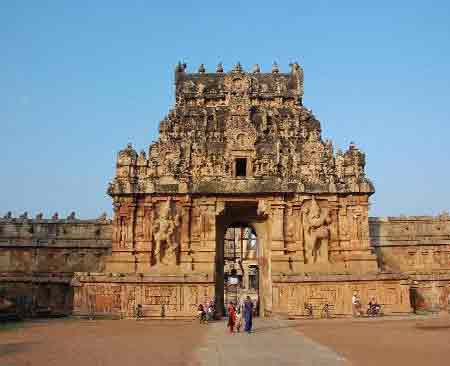 Festivals: Shivrathri in February-March; Aipasi Annabishekam in October-November and Panguni Vasuki Utsav in March-April are the festivals celebrated in the temple.
Location:
2 km south of Dharmankulam, which is on Mayiladuthurai (20 km) to Poompukar(5 km) Bus Route.it can be reached from Sirkazhi (20 km) also.
Contact: 04364 - 260582
Other Temples near Kethu koil
| | |
| --- | --- |
| Temples | Distence |
| Melaiyur | 4 Kms |
| Poombukar | 2 Kms |
| Karuvi | 8 Kms |
Distance between Budhan koil to other Navagragha Temples
| | |
| --- | --- |
| Temples | Distence |
| Suryanar Koil | 56 Kms |
| Thingaloor | 106 Kms |
| Vaitheeswarar Temple | 22 Kms |
| Thiruvenkadu | 7 Kms |
| Alangudi | 91 Kms |
| Kanjanur | 52 Kms |
| Thirunallar | 49 Kms |
| Thirunageswaram | 105 Kms |
Pooja Timing
Daily Poojas at Temple

Darshan Timings :

Morning - 06.00 AM - 01.00 PM

Evening - 04.00 PM - 08.00 PM