| | |
| --- | --- |
| Moolavar | : Aabathsahayeswarar |
| Theertham | : Amritapushkaraini |
| Sthala Vriksham | : Poolai Shrub |
Alangudi Temple: The temple is one of the nine Navagraha sthalas(Temples of Nine planets) located in the Cauvery Delta region dedicated to planet Jupiter, called Dakshinamoorthy,the Guru.Lord Guru can be propitiated in the form of Sri Dakshinamurthy.Legend is that Siva consumed deadly poison, giving rise to the name Alangudi and deity being termed Apatsahayesvarar, indicating saviour during hard times.He is also known as Brihaspathi, due to his excellence in education and fine arts, possessing supreme intelligence.Parvathi, the consort of Lord Shiva, is said to have been reborn on the banks of the Amrita Pushkarini within the temple precincts before being reunited with siva.Presiding deity Aabathsahayeswarar is a Swayambulinga Murthy in the temple. Lord Dakshinamurthy adored as Guru Baghwan (teacher of Dharma and Yoga sastras) has special importance in the temple and therefore, the place is regarded as Dakshinamurthy Sthala – the holy place.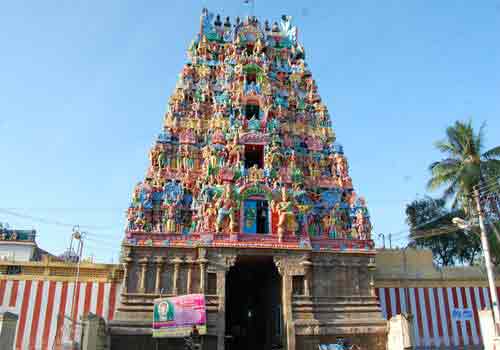 Location:
It is 7 Kms South of Needamangalam Railway station
17 Kms South of Kumbakonam.
Contact: 04374-269407
| | |
| --- | --- |
| Temples | Distance |
| Kumbakonam | 17 Kms |
| Thiruvarur | 35 Kms |
| Papanasam | 32 Kms |
Distance between Thingaloor Temple to other Navagragha Temples
| | |
| --- | --- |
| Temples | Distance |
| Suryanar Koil | 32 Kms |
| Thingaloor | 60 Kms |
| Vaitheeswarar Temple | 66 Kms |
| Thiruvenkadu | 80 Kms |
| Kanjanur | 38 Kms |
| Thirunallar | 73 Kms |
| Thirunageswaram | 22 Kms |
| Perumpallam | 75 Kms |
Pooja Timing
Daily Poojas at Temple
Darshan Timings :
Morning - 06.00 AM - 01.00 PM
Evening - 04.00 PM - 09.00 PM