Puducherry (formerly Pondicherry) is a Union Territory of India. It is a former French colony, consisting of four non-contiguous enclaves, or districts, and named for the largest, Pondicherry.
In September 2006, the territory changed its official name from Pondicherry to the vernacular original, Puducherry, which means "New village" in the Tamil language. The territory is called Puducherry in Tamil,, or "Pondichéry" in French. It is also known as The French Riviera of the East.
Pondicherry traces its origin to Saint Agasthya, the revered sage of the south. The excavations near Pondicherry reveal, that a Roman settlement existed here, 2000 years ago. It was also the site of many a battle between the British and the French, and was the capital of French India, before it attained its independence.
This restored, attractive, former French colony, exudes a Mediterranean aura with its chic streets, elegant houses, ornamental gardens and the Hotel de Ville. Being a small and quiet enclave of Tamil Nadu, it has imbibed the Tamilian culture. Apart from the charming atmosphere, excellent restaurants and cheap beer, what attracts most travellers to Pondicherry is the Sri Aurobindo Ashram and its offshoot, Auroville, 10 km outside town. The ashram, founded by Sri Aurobindo in the year 1926, has brought international reputation to this coastal town. The ashram, the spiritual tenets of which combine yoga and modern science is quite popular within India and abroad.
Sri Aurobindo Ashram :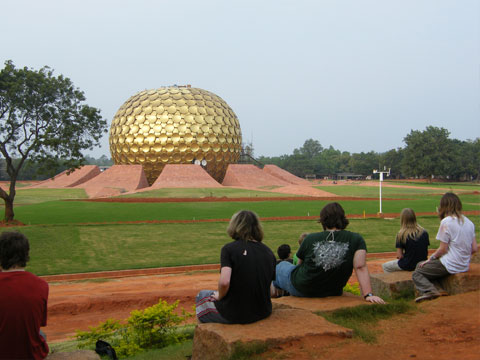 Sri Aurobindo Ashram :