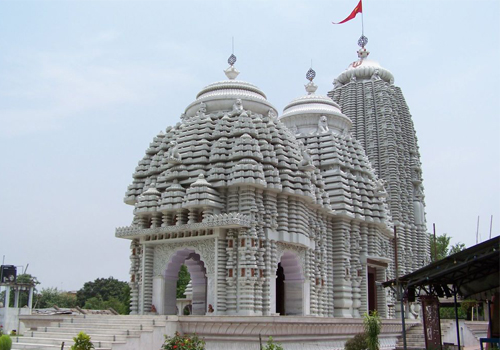 Jaganath Puri Temple : The Jaganath Puri temple is situated at Reddy Kuppam Road, Kannathur, off New Mahabalipuram Road. The main deities of this temple are Lord Jagannath, Devi Subadra and Lord Balabadra. One can pay obeisance to Lord Yoganarasimha as well. The other Sannidhis in this temple are those of Lord Shiva, Lord Ganesha, Devi Gajalakshmi and Devi Vimala. There is also a Navagraha sannidhi. A huge dhwaja sthambha stands majestically at the entrance to the main shrine. The deities of this temple are also made from the wood of the neem tree from which the original deities of Puri were made.
The shrine is made up of black granite from Kancheepuram and white marble from Rajasthan and built in Oriya style. The temple precincts are aesthetically beautified with green lawns and flowerbeds that lay over an area of one acre. The flowers from the garden alone are used for the pooja. Even the priests are from Orissa and they chant the slokas in Oriya. The pooja is also performed in the Oriya style.
The temple was built recently and contains similar structure of Puri Jagannath Temple in Puri, Orissa. This is very near to the sea, constructed few hundred meters away from the shore. When you enter the Jagannanth shrine using the few steps, you will be able to see the sea and the beautiful nature.
The people in South India especially the people in Tamil Nadu visiting Orissa is very difficult and hence this was constructed.
Location : This Temple is Near by Thiruvidanthai Bus Stop
Location : Get down in Kanathur bus stand in ECR Road. Opposite to Maayajal is a roadside fish market. Take that road and on the first right you will find the sign board directing to the temple.
Near By Railway Station : Chennai Central, Egmore
Near By Airport : Chennai
Accomodation :
Taj Coramandel : +91-44-5500 2827
Lee Royal Meridian: +91-44-2231 4343
Chola Sheriton : +91-44-2811 0101
The Park : +91-44-4214 4000
Connemmara : +91-44-5500 0000
Raintree : +91-44-4225 2525
Ashoka : +91-442855 3413
Guru : +91-2855 4060
Kanchi : +91-44-2827 1100
Sherimani : +91-44-2860 4401
Abhirami : +91-2819 4547
Kings : +91-44-2819 1471
Daily Poojas at Temple
Darshan Timings:
Morning - 6.30AM to 12.30PM
Evening - 3.30PM to 7.30PM