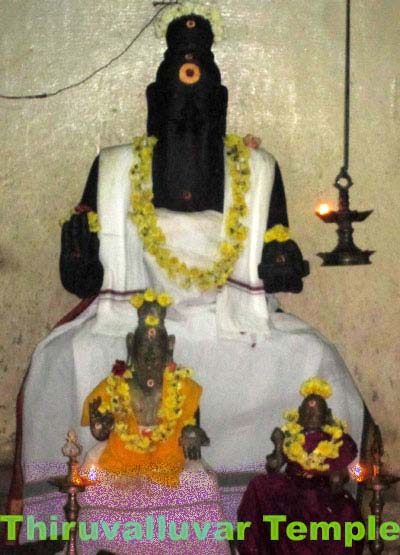 Thiruvalluvar Temple Mylapore: This is a memorial built 400 years earlier in memory of Thiruvalluvar. But people considered Thiruvalluvar as God and performed poojas and changed the memorial in to a temple. Hence, it is called Thiruvalluvar Temple.
Originally Thiruvalluvar was a memorial built in the memory of Thiruvalluvar (Tamil Poet). But people believed him as God and started performing pooja's and converted the Memorial into a temple. Hence it is known as Thiruvalluvar Temple, located in Thiruvalluvar Koil Street, Mylapore.
Ekambareswarar and Kamatchi are the main deities along with Vinayahar, Murugar, Navagrahas and Saneeswarar shrines. The Ekambareswarar shrine is considered as the birth place of Thiruvalluvar by some researchers and as the Samadhi by others.
In the temple complex there are other shrines of Ganesha, Muruga, Shiva and Ambal. The main shrines of the temple are Thiruvalluvar and his consort Vasugi. For Children, classes on Thiruvalluvar are conducted in the evenings. This temple is completely dedicated to his contribution to Tamil literature.
Location: Thiruvalluvar Koil St, Mylapore, Chennai - 600 004.
Near By Railway Station: Chennai Central, Egmore
Near By Airport: Chennai
Accomodation:
Taj Coramandel: +91-44-5500 2827
Lee Royal Meridian: +91-44-2231 4343
Chola Sheriton: +91-44-2811 0101
The Park: +91-44-4214 4000
Connemmara: +91-44-5500 0000
Raintree: +91-44-4225 2525
Ashoka: +91-442855 3413
Guru: +91-2855 4060
Kanchi: +91-44-2827 1100
Sherimani: +91-44-2860 4401
Abhirami: +91-2819 4547
Kings: +91-44-2819 1471
Daily Poojas at Temple
Darshan Timings:
Morning - 8.00 AM to 12.00 PM
Evening - 4.00 PM to 9.00 PM