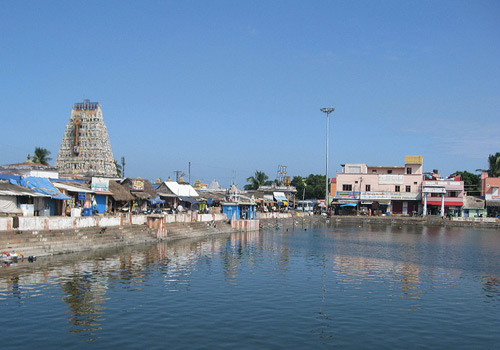 | | |
| --- | --- |
| Moolavar | : Kandaswamy |
| Thala Virutcham | : Vanni |
| Theertham | : Shanmuga Theertham |
| Old year | : 500-1000 years old |
| Place | : Thiruporur |
| District | : Kancheepuram |
| State | : Tamil Nadu |
Sri Subramaniya Swami Temple: The battle of Thiruporur was fought against "Thalayaya Asuran" in ether or Air and connotes the vanquishing of "arrogance or pride". Thiruporur as the very name suggests, is the venue of war ("Por" in Tamil means war) and is situated between the 40 and 41 kilometer stones on the Thiruporur High Road (Old Mahabalipuram Road-OMR) from Chennai. Thiruporur is an ancient little hamlet nestled around the imposing "Arulmigu Kandaswamy Thirukoil".
Over 450 years ago, the founding guru of Thiruporur Adhinam Srimad Chidambara Swamy who was an ardent worshipper of "Madurai Meenakshi Amman" had a vision of the Goddess bidding him to build a temple for Lord Muruga at Thiruporur. This happened when the savant challenged the Goddess that he would not eat until she graced him with her vision. Many days passed and Chidambaraswamy was almost in a coma. Suddenly he could hear the anklets of the Goddess Meenakshi and when he opened his eyes slightly, he got a magnificent glimpse of the divine feet. The Goddess then raised the swamy to his feet and as her hands touched him, his skin turned golden. She told him that six earlier attempts to establish the temple had failed. Chidambaraswamy reached Thiruporur to find that it was a dense forest full of palm trees. He could hardly make out where the attempts to build the temple had been made. When he had despaired of locating the site, Lord Muruga himself appeared as a small boy and gave him the vision of the sanctum sanctorum. Thereafter, Chidambaraswamy unearthed the Swayambu Moortis of Lord Muruga with his consorts and established the temple. In those days, Thiruporur was one of the hamlets under the reign of a minor Muslim ruler. When the Muslim ruler's daughter was afflicted with a form of vertigo, his minister "the dubash" suggested that the ruler seek the blessings of the nearby Chidambaraswamy as all other efforts to cure his young daughter had proved unfruitful. The Muslim ruler accepted the suggestion and prostrated, along with his daughter before Shri Chidambaraswamy. When Sri Chidambaraswamy applied the sacred ash to his daughter's body, she was cured instantly.
Location: Thiruporur is 30 km far from Tambaram.
Near By Railway Station: Chengalpatu and Tambaram
Near By Airport: Chennai
Accomodation:
Taj Coromandel: +91-44-5500 2827 Lee Royal Meridian: +91-44-2231 4343
Chola Sheriton: +91-44-2811 0101
The Park: +91-44-4214 4000
Connemara: +91-44-5500 0000
Rain Tree: +91-44-4225 2525
Ashoka: +91-44-2855 3413
Guru: +91-44-2855 4060
Kanchi: +91-44-2827 1100
Shrimani: +91-2860 4401
Abhirami: +91-44 2819 4547
Kings: +91-44-2819 1471.
Daily Poojas at Temple
Darshan Timings:
Morning - 6.30 AM to 12.30 PM
Evening - 3.30 PM to 8.00 PM