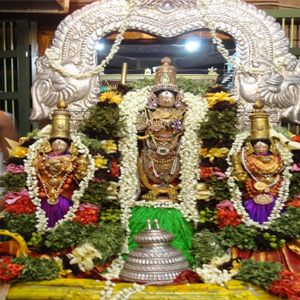 Moolavar
: Neer Vannar, Ranganathar, Ulagalanda Perumal,
Bala Narasimhar
Amman / Thayar
: Anima Malar Mangai, Ranga Nayaki
Thala Virutcham
: Veppala tree
Theertham
: Siddha, Swarna, Karunya theerthams
&nbspKsheera Pushkarini
Agamam / Pooja
: Vaikanasam
Old year
: 1000-2000 years old
Historical Name
: Neermalai, Thoyathri Giri
Place
: Thiruneermalai
City
: Kanchipuram
State
: Tamil Nadu
Thiruneermalai: Sage Valmiki, author of the celebrated epic Ramayana, desired to have the wedding darshan of Lord Sri Rama. He came to this place and performed penance to achieve his aim. Lord Rama appeared before the sage as he wished with Mother Sita and brothers Sri Lakshmana, Sri Bharatha and Sri Satrugna. The sage wished the Lord to stay in the place for the benefit of all devotees and Lord was happy to oblige him. The sage is in a separate temple at the foot of the hill. As He is in a place surrounded by water (Neer in Tamil), He is praised as Neer Vanna Perumal and the place Tiru Neer Malai – meaning mount surrounded by water. Sage Valmiki as a swayambu appears in a worshipping form in the shrine.
Saint Tirumangai Azhwar came to this place for Perumal's darshan. He could not see Perumal as the mount was surrounded by water. Azhwar decided to wait and have the darshan of Lord and stayed in the opposite hill. Though days moved, water level did not recede. He was steadfast in his determination and waited till the water level lowered, had the darshan.
Pleased with His devotee, Perumal granted four darshans to Azhawar – Neer Vanna Perumal standing, Narasimha sitting, Ranganatha reclining and Ulagalanda Perumal in walking postures. The devotee can enjoy these darshans in the temple. Lord Neervanna Perumal is at the foot of the hills while Ranganatha, Narasimha and Ulgalanda Peruamal are at the hill temple.
Though Lord Narasimha is known for his furious appearance, He is smiling and cool here. After killing Hiranya to save his devout son Prahlada from his tortures, He was still furious. Boy Prahlada was very much afraid of Lord's fury. To make His devotee happy, Lord Narasimha shed His fury and appeared before Prahlada as a smiling boy Himself. He thus became Bala Narasimha. There is a shrine for him in the hill temple. Behind Bala Narasimha is Ugra (furious) Narasimha with two hands. We can worship Narasimha in two forms Bala and Ugra.
Raja Gopuram, Bali peeta and Kodimaram the flag post are generally in a row in temples. Here, the Bali peeta and flag post are slightly away from the Rajagopuram. As Perumal granted darshan to Sage Valmiki as Neer Vanna Perumal and Sri Rama, they are considered prominent in the temple. Therefore, to emphasize their importance, Rajagopuram is before Sri Rama shrine and the flag post before Neervanna Perumal.
Sage Tirumangai Azhwar had praised Mother in his Mangala Sasanam hymn as Anima Malar Mangai. The procession deity in Vishnu temples are generally placed before the presiding deity. Presiding deity is at the hill temple and the procession deity Azhagia Manavalar is at the temple in foot hills. Azhagia Manavalar shall be coming to the hill temple on the flag hoisting and lowering days during the Chithirai (April-May) Brahmmotsavam and the Panguni Uthiram (March-April) wedding festival day, three days in total when devotees will have the joint darshan of the presiding and procession deities together.
Location: Tiruneermalai is 10 km far from Chennai Tambaram. Bus facility is available from Pallavaram. The temple is 5 km from Pallavaram.
Near By Railway Station: Chennai Pallavaram, Egmore.
Near By Airport: Chennai Meenambakkam
Accomodation:
Taj Coromandel: +91-44-5500 2827
Le Royal Meridian: +91-44-2231 4343
Chola Sheriton: +91-44-2811 0101
The Park: +91-44-4214 4000
Connemmara: +91-44-5500 0000
Raintree: +91-44-4225 2525
Ashoka: +91-442855 3413
Guru: +91-2855 4060
Kanchi: +91-44-2827 1100
Sherimani: +91-44-2860 4401
Abhirami: +91-2819 4547
Kings: +91-44-2819 1471
Daily Poojas at Temple

Darshan Timings:

Morning - 8:00 AM to 12:00 PM

Evening - 4:00 PM to 7:30 PM