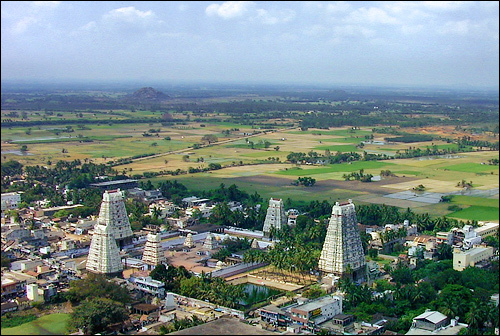 | | |
| --- | --- |
| Moolavar | : Veda Giriswarar,Bhaktavatsaleswarar |
| Amman / Thayar | : Tiripura Sundari |
| Thala Virutcham | : Plantain |
| Theertham | : Shangu Theetham |
| Old year | : 1000-2000 years old |
| Historical Name | : Kazhukundram |
| City | : Thirukalukundram |
| District | : Kanchipuram |
| State | : Tamil Nadu |
Vedagiriswarer Temple: Kazhugu in Tamil means eagle and kundram the hill, hence the name of the place Tiru Kazhu Kundram. Even today two eagles visit the temple every day to accept the rice offered to them. This is the place where Saint Sundarar got gold from Lord. Vedas are in the form of this hill. Crores of Rudras and Siddhas performed penance and attained salvation here. The environment is so suitable for those to do meditation peacefully.
The glory of the place and Lord of the temple are praised by saivite saints, Pattinathar and great poets. Lord granted darshan to Saivite Saint Manickavasagar in this place. Devotional poet Arunagiriar describes the place as the one equal to Amaravathi the capital of Indira. King Suraguru had Lord's darshan. Sage Markandeya blessed by Lord of Kasi (now Varanasi) came to this place and performed abishek to Lord when a conch appeared in the abishek water. This theertha praised as Markandeya theertha produces a conch even now once in 12 years. There are 12 theerthas-sacred springs-around the hill named 1) Indira, 2) Shambu, 3) Rudra, 4) Vasishta, 5) Meignana-true wisdom. 6) Agasthya, 7) Markandeya, 8) Kausika, 9) Nandhi, 10) Varuna, 11) Akalika and 12 Pakshi theerthas.
Lord Shiva is a swayambumurthi in the temple. It is a contradiction here that Nandhi before the sanctum sanctorum is absent in this temple. There are 565 steps to reach the hill temple. A great festival known as Pushpakara Mela as great as the Kumbh Mela in north is celebrated here once in 12 years with one lakh deepas on the Jupiter transition day to Virgo sign. A conch is born in the theertha once in 12 years. This miracle happens even now. It is noteworthy that the tank in the temple is one containing herbal properties. It is the experience of the people that a mentally retarded person is cured completely with a dip in the theertha and prayer to Lord.
Two sages Poosha and Vruddha performed penance on Lord Shiva seeking Sharoopa status. Lord modified their demand and granted the Sayujya status and promised elevation to Sharoopa later. The sages refused to accept the offer and were adamant on their demand. Angry Lord cursed them to become eagles. Since then they are in this hill known as Shambu and Aadhi and are worshipping Lord with the Pakshi Theertha they had created. It is believed that these eagles use to bathe in Rameswaram, eat in Kazhukundram and stay at Kasi each day. The feeding of the eagles is going on for thousands of years, it is believed. King Suraguru, to whom Lord granted darshan was instrumental for the creation of this sacred place, says the history.
Location: Thirukazhukundram is on the Chengalpat-Mamallapuram road. Bus facility is available. It is also linked by road from Chennai, Kancheepuram. The place is 80 km from Chennai and 17 from Chengalpat.
Near By Railway Station: Chengalpat, Tambaram
Near By Airport: Chennai
Accomodation:
Taj Coromandel: +91-44-5500 2827
Lee Royal Meridian: +91-44-2231 4343
Chola Sheriton: +91-44-2811 0101
The Prak: +91-44-4214 4000
Connemara: +91-44-5500 0000
Rain Tree: +91-44-4225 2525
Ashoka: +91-44-2855 3413
Guru: +91-44-2855 4060
Kanchi: +91-2827 1100
Sherimani: +91-44-2860 4401
Abhirami: +91-44-2819 4547
Kings +91-44-2819 1471
Daily Poojas at Temple
Darshan Timings:
Morning - 9.00 AM to 12.30 PM
Evening - 5.00 PM to 7.00 PM