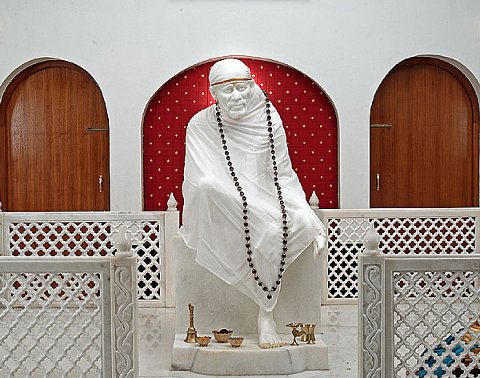 Injambakkam Shri Saibaba Temple: Shirdi Sai temple at a place called Injambakkam located on the ECR road ( Old Mahabalipuram Road ) at Chennai and it is called Saipuram. Saipuram Shirdi Sai Baba Temple is situated at Injambakkam, in a lavish seven acres of pristine land facing the Bay of Bengal, on the outskirts of Chennai. Temple is situated amidst lush greens and a quite place for meditation.
The darshan of Sai baba and the satisfaction rendered here is just the same as the Baba temple in Shridi. Though Baba is the presiding idol, there are places for other gods also. This temple has more than one idol and is definitely a place for all devotees seeking peace. The road next to Prathana theatre will lead you into this land of Sai Baba.
As you enter the temple complex you can feel the serenity and the divine presence of Sri Sai Baba, with a pervading feeling of love and compassion that was Sai Baba himself. In this temple almost all the deities like Siva, Dattatreya,Vishnu, Hanuman, Ram with Sita and Lakshman, Durga, Shiva Linga , Krishna with his wives ,Karthikeya with his wives, Navagrahasa etc are installed. The attraction is Vallabha Ganapathy with ten arms. The main Sai temple , hexagonal structure ,is as high as 100 feet and has been provided with concrete ladders to go to the top. Besides this temple complex has a number of buildings and temples greenery all around giving cool air and shade.
Location : Shri Shirdi Sai Baba Spiritual and Charitable Trust Saipuram Injambakkam, Chennai.
Near By Railway Station :Chennai Central, Egmore
Near By Airport : Chennai
Accomodation :
Taj Coramandel : +91-44-5500 2827
Lee Royal Meridian : +91-44-2231 4343
Chola Sheriton : +91-44-2811 0101
The Park : +91-44-4214 4000
Connemmara : +91-44-5500 0000
Raintree : +91-44-4225 2525
Ashoka : +91-442855 3413
Guru : +91-2855 4060
Kanchi : +91-44-2827 1100
Sherimani : +91-44-2860 4401
Abhirami : +91-2819 4547
Kings : +91-44-2819 1471
Daily Poojas at Temple
Darshan Timings:
Morning - 5.30AM to 1.30PM
Evening - 4.00PM to 9.00PM