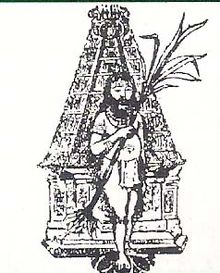 | | |
| --- | --- |
| Moolavar : | Pattinathar |
| Thala Virutcham : | Vilwa |
| Theertham : | Bay of Bengal |
| Old year : | 500 years old |
| Place : | Tiruvottriyur |
| District : | Chennai |
| State : | Tamil Nadu |
Pattinathar Temple: The temple is on the shores of Bay of Bengal. There is no tower or vimanas. The saint is facing the sea from a separate shrine in a Linga form on a square peeta-stage. The traditional Nagabarana (the divine snake jewel on the head of Linga) is also placed on the idol. The saint is considered as Lord Shiva and pujas performed accordingly. Pradosha pujas (puja on the 13th day of new moon or full moon days between 4.30 p.m. to 6.00 p.m.) Shivrathri puja in February –March and Aipasi Annabishekam in October-November are devotionally followed in the temple.
Sri Nandikeswara is opposite Lord Shiva shrine, Lord Vinayaka and Lord Muruga are in the front mandap. Sri Chandikeswara graces from the prakara. Saint Pattinathar belongs to Uthirada Star, hence pujas are offered to Him on the star days each month.
Pattinathar was an ascetic. People praying to him do not promise anything as prayer commitment but only place their grievances at His feet. They offer later what they wish or have. It is said that promising prayer commitment would have adverse results as Pattinathar was a Sanyasi.
The entrance of the temple is not tall. The devotee has to enter bending the neck as a mark of humility. There are 27 lamps in His shrine representing 27 stars. Ghee is used to light the lamps. The sacred ash used for the abishek is offered as Prasad. It is also said that Kubera the Lord of Wealth was born as Pattinathar and hence the belief that praying here would bring in prosperity.
Location : This Temple is Near by Thiruvidanthai Bus Stop
Location: Tiruvottriyur is 12 km far from Chennai Egmore, 7 km from Chennai Central and 22 km from Chennai Koyambedu. From beach railway station buses are available. Buses are available from other ends too directly.
Near By Railway Station: Chennai Egmore
Near By Airport: Chennai
Accomodation:
Taj Coromandel: +91-44-5500 2827
Lee Royal Meridian: +91-44-2231 4343
Chola Sheriton: +91-44-2811 0101
The Park: +91-44-4214 4000
Connemara: +91-44-5500 0000
Rain Tree: +91-44-4225 2525
Ashoka: +91-44-2855 3413
Guru: +91-44-2855 4060
Kanchi: +91-44-2827 1100
Shrimani: +91-2860 4401
Abhirami: +91-44 2819 4547
Kings: +91-44-2819 1471.
Daily Poojas at Temple
Darshan Timings :
Morning - 6.30 AM to 12.00 Noon
Evening - 4.00 PM to 8.00 PM