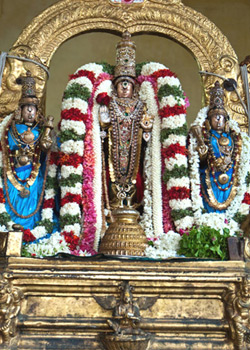 | | |
| --- | --- |
| Moolavar : | Parthasarathy |
| Urchavar : | Venkatakrishnan, Sridevi, Bhoodevi |
| Amman / Thayar : | Rukmini |
| Thala Virutcham : | Ape flower Tree |
| Theertham : | Kairavini pushkarini |
| Agamam/Pooja : | Vaikanasam |
| Old year : | 1000-2000 years old |
| Place : | Brindharanya Kshetram |
| City : | Triplicane, Chennai |
| District : | Chennai |
| State : | Tamil Nadu |
Lord Parthasarathy Swami Temple: Steeped in mythologies and eulogised by the Azhwars in their sacred hymns in Tamil glorified as Divya Prabandhams the Parthasarathy temple at Tiruvallikkeni or Triplicane, as the Britishers called it, happens to be the oldest temple in the city. The existence of the Tiruvallikeni village is seen in records dating back to the Pallava period and earlier. The village's name itself is derived from Lily pond in front of the temple, where it it said that Goddess Vedavalli, consort of Lord ranganatha, one of the five main deities, was born in a Lily flower. the pond itself was amidst a Tulasi forest(densed with Basil trees). Thus the temple forms the core of the area's history.
The UTHSAVAR LORD PARTHASARATHY with wounds is seen all over his face reportedly received from arrows hit by Bhishma during the Mahabharatha war. (when arrows hit by charioteer of Arjuna). He is accompanied by his consorts Rukmini and Sathyabhama. The idol of LORD PARTHASARATHY is charming and the lord is in his splendour at the time of Bramhotsavam.
This temple is actually a dual shrine with a separate entrance facing west where LORD NARASIMHA OR THELLIYA SINGHAR, is seated facing west in a yogic form. He has a separate flag post (dwaasthambam) too. If LORD VENKATAKRISHNA gives courage to fight the enemies, LORD NARASIMHA gives the strength to face the enemies.
The temple and the area TIRUVALLIKKENI derives the name from this tank, where it is said that GODDESS MAHALAKSHMI herself was born as VEDAVALLI to SAGE BHRIGU. It is said that lily flowers bloomed in this tank. This tank, it is said consist of five scared wells, and its waters are holier the Ganges. Float festival is held in this tank for seven days on the New Moon day in the month of masi .(Three days for Lord Parthasarathy and one each of Sri Narasimhar , Sri Ranganathar , Sri Ramar and Sri Gajendra Varathar.
Location : This Temple is Near by Thiruvidanthai Bus Stop
Location : Triplicane-Tiruvallikeni is an important division in Chennai city. Town buses are available from every corner of the city to reach the temple comfortably. Electric train facility is also available.
Near By Railway Station : Triplicane
Near By Airport : Chennai
Accomodation :
Taj Coromandel : +91-44-5500 2827
Lee Royal Meridian : +91-44-2231 4343
Chola Sheriton : +91-44-2811 0101
The Park : +91-44-4214 4000
Connemara : +91-44-5500 0000
Rain Tree : +91-44-4225 2525
Ashoka : +91-44-2855 3413
Guru : +91-44-2855 4060
Kanchi : +91-44-2827 1100
Shrimani : +91-2860 4401
Abhirami : +91-44 2819 4547
Kings : +91-44-2819 1471.
Daily Poojas at Temple
Darshan Timings:
Morning - 6:30 AM to 12.30 PM
Evening - 4:00 PM to 9:00 PM
Details Of Pooja Timing
S.No
Pooja Details
Timings
1.
Thiru manjana Kudam
5.30 AM
2.
Suprabhatham
5.55 AM
3.
Viswa Roopa
6.00 AM
4.
Thiru Aaradhanam
6.15 AM
5.
Kaala Sandhi Theertham
6.15 AM
6.
Utchikaal Pooja
11.00 AM
7.
Thiru Kaapu Seerthal
12.00 Noon
8.
ThiruKappu Neekudhal
4.00 PM
9.
Nitya Anu Santhanam
6.00 PM
10.
Thiru Aaradhanam
7.30 PM
11.
Artha Jaamam
9.00 AM