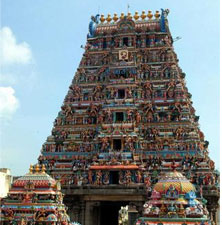 | | |
| --- | --- |
| Moolavar | : Kapaleeswarar |
| Amman / Thayar | : Karpakambica |
| Thala Virutcham | : Kapali, Kadavul, Veda, Vali, Ganga, Velli and Rama theerthams. |
| Old year | : 1000-2000 years old |
| Place | : Mylapore |
| District | : Chennai |
| State | : Tamil Nadu |
Kapaleeswarar Temple: Kapaleeswarar Koil is situated in Mylapore, Chennai very close to Sea. Temple one of the oldest. First built many centuries before the Christ. It was first built on the sea shore, Portuguese when captured Mylapore in 1566 AD demolished the temple Great people like Tiruvalluvar and Peyalwar lived Mylapore. Mylapore was a seaport and a trade centre is supposedly more than 200 years old.
Centuries later the temple was built in the present place in Vijaya Nagar tradition indicates the present structure could have been built by king of Vijaya nagram. The temple is famous for its sculptures. As per Hindu mythology, Parvathi the consort of Shiva performance penance and worshipped Kapaleeswarar in the form of Peacock [Mayil in Tamil] and hence the name of the place Mylapore. Kapaleeswarer is the presiding deity. The name is because it is said Shiva with the bowl of skull [Kapalam] during the time of creation of present 'Yuga' Hence the name Kapaleeswarar. The Amman here is Karpagambal, the name synonymous with the name of the holy tree 'KARPAGAM' in heaven as the deity is believed to bless people with whatever they for.
There is a large tank on the western side of the temple. Bramhamotsvam or 'Arupathumoovar' Festival during April May and , Theppa Thiruviza Float Festival in January, Navaratri Festival in September /October and Vasanta Utsavam in May/June are major attractions.
Location : Mylapore is in the heart of Chennai city and is linked with local trains and bus facilities.
Near By Railway Station : Chennai Central, Egmore
Near By Airport : Chennai
Accomodation :
Taj Coramandel: +91-44-5500 2827
Lee Royal Meridian: +91-44-2231 4343
Chola Sheriton: +91-44-2811 0101
The Park: +91-44-4214 4000
Connemmara: +91-44-5500 0000
Raintree: +91-44-4225 2525
Ashoka: +91-442855 3413
Guru: +91-2855 4060
Kanchi: +91-44-2827 1100
Sherimani: +91-44-2860 4401
Abhirami: +91-2819 4547
Kings: +91-44-2819 1471
Details Of Pooja Timing

S.No

Pooja Details

Timings

1.

Ko pooja

05.00 A.M

2.

Vaikarai Pooja

06.00 A.M

3.

Kaala sandhi Pooja

08.00 A.M

4.

Uchi Kaala Pooja

12.00 P.M

5.

Evening Pooja

5.00 P.M

6.

Kaala Pooja(2)

6.30 P.M

7.

Ardhajama Pooja

09.00 P.M
>