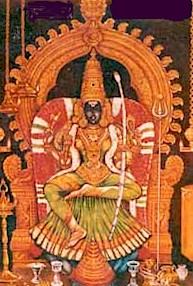 | | |
| --- | --- |
| Moolavar : | Annai Kaligambal |
| Old year : | 17 Century |
| Historical Name : | Annai Kaligambal |
| Place : | Parrys |
| City : | Chennai |
| State : | Tamil Nadu |
Annai Kaligambal Temple: On every full moon days and on all navarathri days ,sri chandi homam is performed praying for the welfare of the mankind. On every New Moon days special poojas are performed to Lord Viswakarma. On every full moon days evenings special poojas and group worship is performed. On every Tuesdays and Fridays at ragu kalam special poojas by lighting in lemon fruit cups is worth mentioning. The vows of the devotees with this light offering is believed to be heard and answered immediately The turmeric paste got from the abishegams of Sri Moolavar is proved useful in treating ailments and best for those who are having no child for years after their marriage. All are invite to have the blessings of Godess Sri Kalikambal.
The Scheme was introduced by the Hon'ble Chief Minister Of Tamil Nadu and the same was inaugurated in this temple on 15.9.2002 feeding poor people of all caste and creed and those came for worship the deity numbering 100 and above daily . To feed 100 people a day have to pay RS 1500 on any day to celebrate the birthday/wedding day etc . To feed 100 people a day in a year throughout the lifetime of a person has to pay RS15000 to celebrate the birthday or wedding day or any specific day he/she wish to celebrate.
The Bramhorchovam i.e. the grand annual festival is being taking place at temple during Vaigasi month of tamil year (may-june). The twelve days events used to organized by the temple authorities in a grand and color manner with the support of devotees of temple. In the following vahanams Godess Sri kalikambal will be taken procession in and around the streets on festival days of Bramhorchovam Kamadenu, Poodhagi, Rishabam, simmham, Elephant, Car festival, Horse, Kinni car.
Location : The temple is situated at a distance of 2 km from central Chennai city.
Near By Railway Station : Beach Station
Near By Airport : Chennai
Accomodation :
Taj Coromandel : +91-44-5500 2827 Lee Royal Meridian : +91-44-2231 4343
Chola Sheriton : +91-44-2811 0101
The Park : +91-44-4214 4000
Connemara : +91-44-5500 0000
Rain Tree : +91-44-4225 2525
Ashoka : +91-44-2855 3413
Guru : +91-44-2855 4060
Kanchi : +91-44-2827 1100
Shrimani : +91-2860 4401
Abhirami : +91-44 2819 4547
Kings : +91-44-2819 1471.
Daily Poojas at Temple
Darshan Timings:
Morning - 06:00 AM to 01:00 PM
Evening - 03.00 PM to 09.00 PM
Details Of Pooja Timing
S.No
Pooja Details
Timings
1.
Kalai sandhi
6.00 AM - 7.30 AM
2.
Uchikalam(Noon Pooja)
12.00 (Noon)
3.
Sayaratchai (Evening)
5.30 PM - 6.00 PM
4.
Artha jamam
9.00 PM