Born: October 31, 1875
Died: December 15, 1950
Achievements: Successfully led Kheda Satyagraha and Bardoli revolt against British government; elected Ahmedabad's municipal president in 1922, 1924 and 1927; elected Congress President in 1931; was independent India's first Deputy Prime Minister and Home Minister; played a key role in political integration of India; conferred Bharat Ratna in 1991.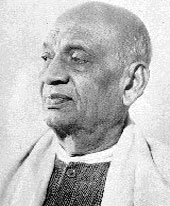 Sardar Patel was popularly known as Iron Man of India. His full name was Vallabhbhai Patel. He played a leading role in the Indian freedom struggle and became the first Deputy Prime Minister and Home Minister of India. He is credited with achieving political integration of India.
Vallabhbhai Patel was born on October 31, 1875 in Nadiad, a small village in Gujarat. His father Jhaverbhai was a farmer and mother Laad Bai was a simple lady. Sardar Vallabhai's early education took place in Karamsad. Then he joined a school in Petlad. After two years he joined a high school in a town called Nadiad. He passed his high school examination in 1896. Sardar Vallabhbhai Patel was a brilliant student throughout his schooling.
Vallabhbhai wanted to become a barrister. To realize this ambition he had to go to England. But he did not have the financial means to even join a college India. In those days a candidate could study in private and sit for an examination in Law. Sardar Vallabh Bhai Patel borrowed books from a lawyer of his acquaintance and studied at home. Occasionally he attended courts of law and listened attentively to the arguments of lawyer. Vallabhbhai passed the Law examination with flying colours.
Sardar Vallabhbhai Patel started his Law practice in Godhra. Soon his practice flourished. He got married to Jhaberaba. In 1904, he got a baby daughter Maniben, and in 1905 his son Dahyabhai was born. Vallabhbhai sent his elder brother Vitthalbhai, who himself was a lawyer, to England for higher studies in Law. Patel was only thirty-three years old when his wife died. He did not wish to marry again. After his brother's return, Vallabhbhai went to England. He studied with single-minded devotion and stood first in the Barrister-at-Law Examination.