Thai Krithigai (Kiruthigai or Kaarthigai) is celebrated on 07 Feb 2014. Generally on all Krithigai special abhishekam, alankaram and pujas are done to Lord Muruga in temples.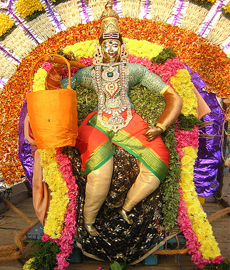 Thai Krithigai is special. Many devotees fast in this day and take Kavadi, Pal Kuddam and do padayatra (walk) to Lord Muruga Temples. Chanting of Lord Muruga hymns and playing of percussion instruments by devotees can be seen in temples. Special yagnas will take place in temples
Krithigai is the naksathira of Lord Muruga. According to Skanda Purana, Lord Muruga took birth from third eye of Lord Shiva as six flames. Agni and Vayu deva carried the six Flames of Lord Muruga to the Saravana Poigai. Kaarthigai Pengal took care of the six babies from Lotus flowers in Saravana poigai .
When Lord Muruga attained boyhood, Goddess Parvati took six babies from Kaarthigai Pengal and made them to single boy with six faces. Hence Lord Muruga is also called Lord Shanmuga. Lord Shiva and Goddess Parvathi granted Kaarthigai pengal boon that special poojas for Lord Muruga will be held in every Krithiga nakshatra.