...................................................................................................................................................................................................................................................................................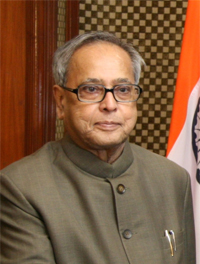 Pranab Mukherjee, Mukherjee was nominated as the presidential candidate of the United Progressive Alliance on 15 June 2012 after considerable political intrigue.The elections were scheduled to be conducted on 19 July 2012 and the results were expected to be announced on 22 July 2012. As many as 81 other candidates had filed nominations but the Election Commission rejected all except that of P. A. Sangma, the nominee of the National Democratic Alliance (NDA). In order to file his nomination for the presidential poll on 28 June, Mukherjee had resigned from the government on 26 June 2012
In the election, Mukherjee received 713,763 votes, while Sangma had 315,987.[35] In his victory speech, delivered outside his residence before the results were officially announced, he said:
I would like express my deep gratitude to all of you who are waiting. The figure has crossed 7 lakhs, only one state remains. The final figure will come from the returning officer. I would like to thank the people of India for electing me to this high office. The enthusiasm, the warmth of the people was remarkable. I have received much more from the people of this country, from the Parliament, than I have given. Now I have been entrusted with the responsibility of protecting and defending the constitution as President. I will try and justify the trust of the people. I would like to reciprocate the congratulation Shri Purno Sangma has extended .
Mukherjee was sworn-in by the Chief Justice of India on 25 July 2012, becoming the first Bengali to hold the post of President of India. After being administered the oath of office, he said we are amidist of fourth world war of terror and what minutes of peace can achieve cannot be achieved in many years of war.
Congress President Sonia Gandhi and Prime Minister Manmohan Singh both congratulated Pranab Mukherjee on his election as President. Former Communist leader Somnath Chatterjee termed Mukherjee as one of "the best parliamentarians and statesmen of India" and said the country "has got the most able man for the top job". Opposition leader Sharad Yadav declared "the nation needed a president like Pranab Mukherjee. Delhi Chief Minister Sheila Dikshit commented and said Mukherjee will be "one of the wisest presidents." She further marvelled at the fact that parties in the opposition ranks supported Mukherjee. "Even the NDA broke up and wanted to vote for the president to be Pranab Mukherjee."The Bharatiya Janata Party (BJP) was reportedly "shocked" and "upset" at the cross-voting for Mukherjee by its legislative members.However, the BJP party President Nitin Gadkari congratulated Mukherjee and said "I extend my hearty congratulations to Pranab Mukherjee on his election today as the new President of India." Gadkari further declared "I am sure that the country will make further development and progress. I wish him all success and a bright future.
Social activist Arvind Kejriwal had stated that he will release proof of Mukherjee's alleged involvement in corruption to coincide with his swearing-in as President. However, Kejriwal failed to produce any such proof. Mukherjee rejected allegations of corruption against him as 'unfair' and 'self-seeking' and said, "it reflected the lack of responsibility on behalf of those claiming to represent high standards of ethical behaviour".Mukherjee further said "the false allegations against him were being levelled with ulterior motive and were malafide and suffered from serious suppression of facts."However no such baffling reports were released
The Zee News noted: "What is striking about [Mukherjee] is that after more than four decades in public life, the Opposition had no ammunition against him after he was declared UPA's choice for President. In spite of Team Anna making some noise about him being involved in some corruption cases, it has been more or less an easy ride for Pranab to Raisina Hill. Once when Sonia Gandhi announced his name, most of the allies and the Opposition came on board. Whereas, NDA partner JD(U) saw no merit in opposing him, one of the bitter critics of the Congress Shiv Sena too toed the line a little too easily. This support was not for Congress but for [Mukherjee]".
Criminal Law (Amendment) Ordinance, 2013 was promulgated by Pranab Mukherjee on 3 February 2013, which provides for amendment of Indian Penal Code, Indian Evidence Act, and Code of Criminal Procedure, 1973 on laws related to sexual offences.Pranab was applauded for rejecting the mercy petitions of Ajmal Kasab and Afzal Guru.