At the stroke of midnight, as India moved into August 15, 1947, Jawaharlal Nehru, India's first Prime Minister, read out the famous speech proclaiming India's independence.
The moment ended three centuries of British colonial rule. The land was no longer the summer retreat of British sahibs who fancied spices, shikar, elephants and snake-charmers.
Independence was also the end of nearly a century of struggle for freedom, battles, betrayals and sacrifices. It also created a situation where we were responsible for ourselves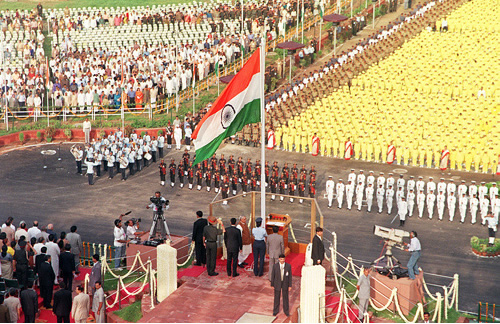 But it wasn't a period of unqualified joy. For a lot of people, in spite of a new era promised by independence, partition was a painful reality and so was the bloodshed that accompanied it. That was 60 years ago. Much has changed; the struggle for freedom lives on in history books and memoirs, and on the tombstones of valiant martyrs. Politics has undergone a personality change from fiery idealism to a pragmatic cynicism.
Karma drives the nation on its way forward, and population has crossed the billion mark. But, come August 15, and the people put their troubles behind them for a while, as they stand up as a nation for the National Anthem. Along with the soaring cadences of the anthem, the hopes and dreams for a better tomorrow are renewed in political speeches and replays of the deeds of those who earned us our freedom.
Independence Day is an occasion to rejoice in our freedom and to pay collective homage to all those people who sacrificed their lives to the cause. But it is more than that. It also marks the coming together of more than 400 princely states into one nation - India. This was probably our biggest diplomatic success.
Each year, August 15 gives us the reason to celebrate all this, and do much more - it is a time to contemplate what we have and how we achieved it.
Though India had no dearth of religious and community festivals, there was, till Independence, no true national festival that the whole country could partake of. Independence Day, beginning as a day to commemorate the greatest moment in Indian history, has now come to signify a feeling of nationalism, solidarity and celebration.
Independence Day remained the sole national festival till India declared itself a republic in 1950. On January 26, 1950, Republic Day became the second Indian national holiday.