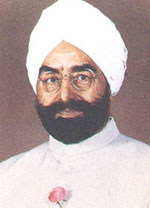 Giani Zail Singh was the first Sikh to hold the position of the President of India. He was a man of many parts- a freedom fighter, Congress leader, Chief Minister of Punjab as well as Union Home Minister. The tall and handsome Giani Zail Singh believed in democratic traditions very strongly, was a God-fearing person and was a true son of the soil. He fought vehemently against feudalism and against colonial rule in India's pre-independence era.

He was born on 5th May 1916 in a small village called Sandhwan in the erstwhile princely state of Faridkot. Zail Singh had very less formal education, only his family's interests for religious learning were inculcated in him. Apart from these, he could read the Guru Granth Sahib fluently and had an excellent knowledge of Sikh doctrine and history. He was a prolific and immaculate speaker and could spellbind people with his public speaking skills. He did his college education at the Shahid Sikh Missionary College in Amritsar.

In 1956, Giani Zail Singh became the Senior Vice-President of the Punjab Pradesh Congress Committee and also a Member of Rajya Sabha. With his motivating skills, he played a vital role in the victory of the Congress in Punjab in the 1962 General Elections. He became the President of India in July, 1982. This great leader passed away on December 25, 1994.