Mahakavi Subramania Bharathiyar is is celebrated as one of India's greatest poets, with many of his composed poems and songs in the Dravidian language Tamil, being popularised in schools, movies and households across India over the years. He is a renowned poet of Tamil Nadu, South India, and his literature is popular among Carnatic musicians.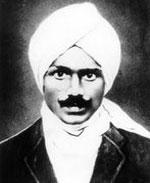 As a person, Bharathiyar was a simple man, interested in his writing alone. His wife would leave the house to bring food somehow, while he wrote and brought in little income for the poor family. However, his writings have earned him the title (or laudatory epithet) "Mahakavi," which in Tamil means "Great Poet." Bharathi was prolific and adept in both prose, and poetry, known for its appeal to the liberty and strength of the people - which also helped rally the masses to support the Indian independence movement in Southern India. Bharathi lived during an eventful period of Indian history; his contemporaries included other prominent leaders of the Indian independence movement such as Mahatma Gandhi, Tilak, Aurobindo and V.V.S.Aiyar.
Born to Chinnaswaamy Iyar and Lakshmi Ammal in 1882 at Ettiyapuram, he lost his mother at 5, and at 11 was invited to a conference of Ettiyapuram court poets and musicians. There he was given the title Bharathi for his ability to compose poems and songs - he accepted a challenge and composed a Chindu on the model of a Kavadi Chindu of Annamalai Reddiar. He married Chellamal in 1897, and in 1898, his father died.
At 22, he became a Tamil teacher at Setupati High School in Madurai and the same year was appointed Assistant Editor of a daily newspaper called "Swadesamitran." In 1906, he was editor of a weekly magazine called "India" in Madras and the next year a friend of his, Krishnaswaamy Aiyyar received from him songs he had composed on patriotism and published them, titled "Sudhesa Geetangal". In 1908 the government wanted to arrest him, but he escaped to Pondicerry (under French rule) and published "India" from there. In 1912 he translated the Bhagavad Geeta into simple Tamil (making it accessible to Tamils who couldn't understand Sanskrit) and composed songs on Krishna (Kannan Paattu), "Kuyil", and "Panchali Sabadam" (on Draupadi of the epic Mahabharata). Other types of songs he composed can be distinguished by; Patriotic, Phillosophical, Auto-biographical, Devotional, Killikani (Kavadi Chindus), Kannamma (songs addressed to his wife, Chellamma), Taalaatu (lullabies) and Miscellaneous songs. When he left Pondicherry in 1918, he was arrested and later released.

His national integration songs earned him the title "Dhesiya Kavi" (National Poet). He composed Tamil keertanais on love, devotion, fearlessness, mysticism. His stepbrother C. Vishwanaata Iyer and V.V.S. Iyer tells us that he himself set his songs to music and could sing them well in a variety of raagams. In "Bharata Dheviyin Thiru Dasangam" he used 10 different raagams. His patriotic songs emphasize nationalism, unity of India, equality of man and the greatness of the Tamil language, set himself to folk tunes. He sang these himself at Congress meetings at the Madras beach.
Though he was fluent in Sanskrit (and other languages including Bengali, Hindi, Sanskrit, Kutchi, French and English), he only composed 2 compositions purely in Sanskrit, with the vast majority being in the rich language of Tamil. His voracious appetite for learning ancient and contemporary Tamil literature derived some very astonishing insights from the ancient poems.
In an article "Sangeeta Vishayam" (Issues in Music), Bharathiyar rebukes musicians for singing songs of the Trinity, Patnam Subramania Iyer and others without knowing the meaning because the songs are all in Sanskrit or Telegu. Without knowing the meaning, singers are unable to sing with proper expression. He also says songs usually portray devotion and love and not other emotions like courage, anger, wonder, fear, and hatred. He emphasized that musicians should not sing songs which they don't understand and should learn from Hindustani musicians how to train their voices.
Bharathi's health was badly affected by the imprisonments and by 1920, when a General Amnesty Order finally removed restrictions on his movements, Bharathy was struggling in penury and failing health resulting in his tragic premature death. Bharathi was struck by an elephant at Parthasarathy temple, Thiruvallikeni, Chennai. He however survived the mishap. A few months later his health deteriorated and he died on September 11, 1921, not yet forty years of age. His funeral was attended by only seven people.
Bharathiyar tuned a lot of his songs, however, not all of them were recovered, so other musicians tend to tune his compositions too. Some of the songs of Bharathiyar that are very popular in the Carnatic music concert circuit include: Theeratha Vilaiyattu Pillai, Chinnanchiru Kiliye, Suttum Vizhi, Thikku Theriyaatha, Senthamizh Nadenum, and Paarukkule Nalla Naadu. Usually, Bharati's songs are rendered towards the end of the concert more for their aesthetic appeal rather than musical grammar alone. However, recently, many musicians have held thematic concerts, rendering Bharathiyar's items alone.