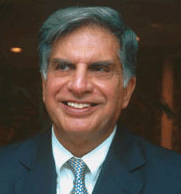 One of the most well-known and respected industrialists in India, Ratan Tata, is the Chairman of the Tata Group. Born on December 28, 1937, in Mumbai, he suffered as a child because his parents separated when he was very young. He was brought up by his grandmother Lady Navajbai and did his schooling in Mumbai. He graduated with a degree in Architecture and Structural Engineering from Cornell University and joined his family business.
He was sent to Jamshedpur to work at Tata Steel. He was appointed the Director-in-Charge of The National Radio & Electronics Company Limited (Nelco) in 1971 and was successful in turning Nelco around.
In 1981, he became the Chairman of Tata Industries and was instrumental in ushering in a wide array of reforms. It was under his stewardship that Tata Consultancy Services went public and Tata Motors was listed in the New York Stock Exchange.
He was awarded the Padma Bhushan by the Government of India in January 2000. He serves on the boards of several leading organizations, both in the public as well as the private sector in India. He is a member of the International Investment Council set up by the President of South Africa and serves on the programme board of the Bill & Melinda Gates Foundation's India AIDS initiative.
He is credited with leading the Tatas' successful bid for Corus- an Anglo-Dutch steel and aluminum producer, which was acquired by Tata Sons for an estimated £6.7 billion in January 2007.