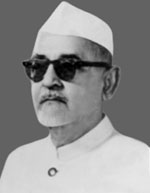 Dr. Zakir Hussain was born at Hyderabad on February 8, 1897 and suddenly death on 3 May, 1969.
DR. ZAKIR HUSSAIN was born at Hyderabad on February 8, 1897, he came of a Pathan family of the upper middle-class, settled at Qaunganj in the District of Farrukhabad, Uttar Pradesh. His father, Fida Hussain Khan, went to Hyderabad, studied Law and had a most successful career. Unfortunately, he died when Dr. Zakir Hussain was only ten years old.
Dr. Zakir Hussain was sent first for his education to the Islamia High School in Etawah (U.P.) which specialised in puritanical strictures. After finishing school, he joined the M.A.O. College at Aligarh and studied upto the M.A. When the Indian National Congress and the All India Khilafat Committee joined hands in launching the Non-Cooperation Movement, Mahatma Gandhi toured the country to induce teachers and students to leave Government administered schools and colleges. The young Zakir Hussain, who was then half-student and half-teacher, very prominent among the students and very popular with a large section of the staff, persuaded Hakim Ajmal Khan and other leaders to establish a national institution at Aligarh, and the Jamia Millia Islamia came into being on 29 October, 1920. But Zakir Hussain did not wish to leave his studies incomplete and he went to the University of Berlin in Germany for higher studies in 1923, returning with a doctorate in Economics three years later. He rejoined the Jamia Millia in February-March, 1926 and became the Shaikhu Jamia (Vice-Chancellor). It was at the Jamia Millia that Dr. Zakir Hussain developed his gifts as an educationist. It was his experience here as well as his deep study of the philosophy of education which enable him to take charge of the scheme of Basic National Education when it was launched in 1938. He was the President of Hindustani Talimi Sangh, Sevagram from 1938 to 1948.
In November 1948, Dr. Zakir Hussain was appointed Vice-Chancellor of the Aligarh Muslim University. He was also nominated a member of the Indian Universities Commission. The World University Service made him the Chairman of the Indian National Committee and in 1954 he was elected the World President of the organization. He was also nominated to the Rajya Sabha and made the Indian representative on the Executive Board of the UNESCO from 1956 to 1958. He remained the Chairman, Central Board of Secondary Education, till 1957, a member of the University Grants Commission till 1957, a member of the University Education Commission in 1948-1949 and of the Educational Reorganisation Committee of Bihar, Uttar Pradesh and Madhya Pradesh. In 1957 he was appointed the Governor of Bihar and in 1962 he was declared elected as the Head of the State and was formally sworn in as the Third President of the Indian Republic four days later. He held the highest office of the country with exemplary grace and dignity till his sudden death on 3 May, 1969.
Dr. Zakir Hussain was awarded Padma Vibhushan in 1954 and Bharat Ratna in 1963. He was awarded D.Litt. (Honoris Causa) by the Universities of Delhi, Calcutta, Aligarh, Allahabad and Cairo.
Many demands were made on Dr. Zakir Hussain's time and he was not able to undertake many scholarly projects which he had in mind. His interest in literary and academic work was so keen that he translated Plato's 'Republic' and Cannon's 'Elementary Political Economy'into Urdu soon after joining the Jamia Millia in 1920. While in Germany, he got an edition of the 'Diwan-I-Ghalib' printed - doing much of the compositing himself, because the press did not have enough staff - and also brought out a book in German on Mahatma Gandhi (Die Botschaft des Mahatma Gandhi') . He delivered a series of lectures on economics under the auspices of the Hindustani Academy and another series in English, on Capitalism: Essays in Understanding, under the auspices of the Delhi University in 1945. He also translated Friedrich List's 'Nationalockonomic'. His Convocation Addresses have been collected and published under the title "The Dynamic University". But he excelled in writing for children and his stories are masterpieces of style.
Tall, well-built, fair in complexion, with anoble forehead, a sensitive aristocratic nose, a well-trimmed beard and always neatly and tastefully dressed in sherwani and pyjama, Dr. Zakir Hussain was an imposing embodiment of culture and refinement. He was sensitive to beauty in all its forms and had an intense passion for excellence. His varied tastes and hobbies, his love of roses, his collection of cacti, fossils, paintings and specimens of calligraphy, objets d'art, and curios and above all, his rich library are evidence of his versatile personality.
He was steeped in the spiritual and aesthetic culture and the ethical principles of the Muslim Sufis and poets. He had the sufi's indifference towards the externals of religion and, though a deeply religious man, his religiosity was never obvious. It was the inspiration for secularism by which he endeared himself to men of different religious communities.
Dr. Zakir Hussain's nationalism was, like Gandhiji's, a reflection of his allegiance to the highest moral values and to the ideals of a culture which had become the whole of his own self. It was a nationalism which demanded for the individual that freedom which is the essence of democracy, that self-discipline which is the foundation of democratic citizenship and that identification with the good of the society which gives substance and meaning to the life of the individual.