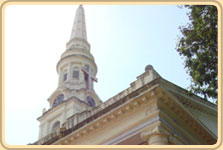 This Cathedral which is 188 years old is remarkable for its splendid architectural beauty. Built in 1815 with a 45m spire and elegant Ionic columns of brick and chunnam, it is of special historic interest for the several fine memorial tablets remembering such outstanding men as Bishop Caldwell - the eminent Philologist, Bishop Heber, ardent missionary, Dr. Corrie, first Anglican bishop of Chennai, Dr. Anderson, the famous doctor who introduced silk manufacture in Chennai and William Parry and John Binny, merchant entrepreneurs whose names are still remembered in the city's oldest business establishments. Unusual too, is the adjacent graveyard with its unique guard rail made up of musket barrels, bayonets and spikes taken at the capture of Sri Rangapatnam in 1799.
Location : 224, Cathedral Road, Chennai-600 086.
Tel : 28272740, 28262740.