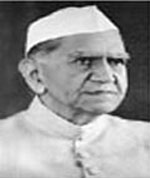 Born on 13 May 1905 at Hauz Qazi area of old Delhi, Fakhruddin Ali Ahmed, the fifth President of the Indian Republic grew up in the thick of India's freedom struggle.
Fakhruddin matriculated from Delhi Government High School and proceeded to England for higher education in 1913 where he joined Cambridge University and was called to the Bar from the Inner Temple of London. On his return to India in 1928, he started legal practice in the Lahore High Court.
In 1925 he met Jawaharlal Nehru whose progressive ideas impressed him deeply. In 1931 he became a primary member of Congress and actively participated in the freedom movement. He offered individual Satyagraha on 14 December 1940 for which he was imprisoned for a year. In 1942 he was arrested in the Quit India movement and sentenced to three-and-a-half years' imprisonment.
He occupied several positions in the Congress. He was a member of the Assam Pradesh Congress Committee from 1936 and of AICC from 1947 to 74. He was elected to the Assam Assembly and became the Minister of Finance, Revenue and labour in the 1938 Bardoloi Ministry. His initiative in introducing the Assam Agricultural Income-tax Bill and his pro-labour policies earned him popularity and established his acumen and ability in the administrative sphere.
After independence he was elected to the Assam Assembly for two consecutive terms--1957-62 and 1962-67. He had earlier been elected to the Rajya Sabha in 1952-53. Jawaharlal Nehru asked him to join his cabinet in January 1966. Ahmed was elected to the Lok Sabha in 1971 and held portfolios relating to Food and Agriculture, Education, Industrial Development and Company Laws.
Fakhruddin Ali Ahmed was elected to the Presidentship of the Indian Republic on 20 August 1974, and died in office on 11 February 1977. His was a multifaceted personality. His deep interest in sports, music, fine arts and poetry was well known.