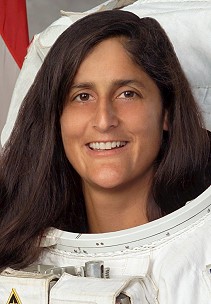 Sunita Lyn Williams, born on September 19, 1965 in Ohio, United States is currently at the International Space Station (ISS) as a member of Expedition 14. A NASA astronaut, she is the second woman of Indian origin after the late Kalpana Chawla to go into space after being selected by NASA.

Married to Michael J. Williams, her family roots go back to Gujarat from her father's side. She carried a copy of the Bhagavad Gita, a small statue of Ganesha and some samosas into space. She completed her Masters in Engineering Management from the Florida Institute of Technology.

Her stint with NASA started in 1998. She flew into space on Space Shuttle mission STS-116, aboard the shuttle Discovery, on 10 December 2006. This mission specialist on STS-117 registered many firsts to her name when she landed back on earth on June 22, 2007. This renowned scientist became the first female space traveler to have longest spaceflight of 195 days along with four space walks with total time period of 29 hours and 17 minutes.

In September 2007, on her visit to India, Sunita Williams became the first Non-Resident Indian to be honored with Sardar Valllabhbhai Patel Pratibha Award by World Gujarati Society.