...................................................................................................................................................................................................................................................................................
Precautionary Measures During Rainy Seasons
'Mazhai' [Rain] is one of the enjoyable aspects in nature. Chennai has been unusually pleasant for the last fortnight, especially last few days.

Wow! Hot sumptuous onion pagoda or Bajji complemented by Tea [Not hard drinks which is unhealthy] with friends and family, a real joy.

With exceptions, children enjoy rain. Even in adult there are so many they love to get entrenched in rain.
There was a movie by name Mazhai which aptly demonstrates the joy one can experience in rain and a song sequence featuring Tamanah and Karthi in the movie 'Paiya' . It is infectious as well as inspiring that when one plays in rain we cannot resist join the person.

Again the Rain is enjoyable only as long the water does not stagnate beyond a level.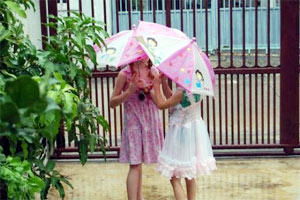 There is variety in rain:
Light rain — when it drizzles
Moderate rain — when it pours lightly and for a brief period of time.
Heavy rain — when it pours heavily after and with lightning and thunder pours incessantly
Violent rain: Heavy rain with thunderstorm; result of cyclone
There are times during monsoon when it rains incessantly for days that we would tend to feel. "Will this rain ever stop?" That is because it affects our normal life. The heavy rain results flooding of water and especially in coastal cities where the land mass is at lower level than that of the sea level the water does not drain but stagnates. The impact is enormous because it restricts our movement outside our homes. That is the kind of situations we must prepared for with contingencies.
Water is the most important required next only to air for survival, but when it is allowed to stagnate around us beyond a time required it becomes hazardous and dangerous. Water is the best medium for organisms to thrive. For example the Mosquitoes breed in water and when it becomes cold it not only it seeks another medium to warm up itself but also feed itself. Human blood is the best food for Mosquitoes.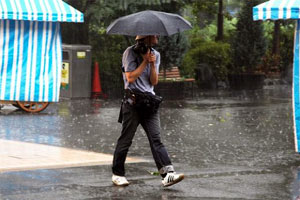 The other situation is that we run out of kitchen eatable inventories. During monsoon it is important to stock necessary eatables especially 'ready to eat' like biscuits, bread etc., based on their shelf life. It calls for sometimes military like planning to deal with different situations like:

1. Availability of cooking material- gas or otherwise- in plenty.
2. Cooking material in scarce.
3. Availability of Electricity.

Physical requirements to deal with Chillness:

1. Electrical warmers –
2. In the absence of electricity – proper blankets
3. Proper bed spreads/ mats in case of lying on the floor.

Availability of Motor vehicles:

1. In case of Automobiles – they must be got serviced at the beginning of the monsoon, especially battery should have been checked and Engine oil and Brake oil and brake itself should have been thoroughly checked and updated, so that vehicle can be used in emergencies without hazels; like in cold sometimes if the battery condition is not updated the car may not start.

2. The tyres checked for adequate air and the Stephanie in order.

3. Keep good umbrella, rain coats handy.

Health concerns:

1. It is better to take Vitamin C daily from just before the start of the monsoon. The change of climate would instantly affect people whose immune system is weak.

2. The diseases are either air borne or water borne.

There is not much we can do about the air, but we can protect ourselves to some extent against water borne diseases.

Drink only protected water supplied and next level drink always the Boiled water and warm water, which is well protected after being boiled; like keeping the boiled water in a water tight thermos flasks or vessels.

3. People with illness that get aggravated with the onset of monsoon/winter – must get themselves equipped, in consultations with the doctor, to stock necessary medicines and eat only as recommended by the doctor.

4. Be careful about what you eat; avoid food that is not good to your digestive system; that adds to cooling of system.

How to keep the children busy in side home:

1. Have indoor games like carom handy.

2. Play quizzes with children.

3. Give them educational activity that they enjoy doing. Color in new coloring books, only used when confined indoors due to bad weather outside.

4. Put together puzzles, or let the kids try to solve puzzles from puzzle books

5.Whenever you have the chance, stock up on board games, toys, old clothing, craft supplies, scissors, glue, paper, pencils, markers, crayons, puzzles, decks of cards, and an assortment of other items you think the kids might have use of.

6. Teaching them some useful skills such as reading books, how to dress [special dresses], how to keep their place clean cooking. Tell them stories. Of course put them on video games.

Make their stay indoor enjoyable that they will help you prepare for the next rainy day.

For office goers:

1. Vehicles must be in tip top conditions.

2. Rain coat, wind cheater handy.

3. Know well your roads – meaning you should know the pits in the road –which are covered with water.

4. Leave for places well before normal time to avoid tension enroute; give yourselves more time to deal with exigencies like road diversions.

We need water. Let it pour. Let us enjoy it .