Chennai formerly known as Madras is Detroit of India. Chennai is now growing to be 'Detroit of South Asia. Chennai is attracting billions of dollars in foreign investment and hundreds of car. Worlds' Automobile Majors changing their perceptions towards this city, which is even now considered culturally best among cities worldwide. The former President, Mr R. Venkataraman, who, in his capacity as Minister for Industries in K. Kamaraj's Cabinet, was primarily responsible for placing Tamil Nadu on the country's industrial map during the Second Plan period R V, was the person who dreamt of making Tamil Nadu the Detroit of only South India. The State has come a long way far beyond the dream of RV and now very much looking to be world beaters.
The city is now contributing to more than 40% of the country's auto parts and vehicles. World's major automotive giants that operate out of Chennai are TVS, Ashok Leyland, Royal Enfield, TI Cycle, TAFE, Hyundai, Mitsubishi etc.,. Volkswagen, Nissan have recently entered Chennai. Chennai earlier was a major manufacturing hub for automobile components.The automobile industry around Chennai caters to the automobile market throughout India. TVS group and Rane group, Asokh Leyland , are significant local players who should be credited to be path finder's in Automobile Industry;their world class Auto ancillaries have really shown the way for International players.
Auto Industry in India: A Vignette:
In 1898 the first motor car came to India. Between 1910 and 1920, the automobile industry took firm roots in the country with the setting up of assembly lines in Bombay, Calcutta and Madras. . The import and assembly of motor cars witnessed a steady growth crossing the 30,000 mark in 1930. With the assembling of Dodge De Sato and Plymouth, Premier Automobiles Limited (PAL) acquired the unique distinction of a pioneer in the manufacture of motor car in India in 1946, while the Birlas' Hindustan Motors (HM), which started off as an auto component maker, also graduated to making cars in 1949.
With the Centre deciding in 1954 to develop an indigenous automobile industry, GM, Ford and other assemblers had to close down operations. The restrictive policy actually resulted in keeping the industry thousands of kilometers away from the state-of-the-art technology. With the Joint venture with Suzuki Motors of Japan by the Government owned Maruti and the cars rolled out really turned the way for Automobile manufacturing in India. People started to enjoy the options available .It was a watershed in India's auto industry, registering a sales figure of more than 2,00,000 by 1999 from a mere 1,200 units in 1984. MUL also has since diversified its portfolio by inclusion of vans, multi-utility vehicles (MUVs) and mid-sized cars. It indeed changed people's perception towards ownership of cars. The delicensing of auto industry in 1993 was another major milestone as it helped attract several international players to the country: Daewoo, Hyundai, GM, Ford, Peugeot, Mitsubishi, Honda, Fiat and others. WTO rules compelled the Centre to revise its automobile policy in 2002 by withdrawing certain conditions such as achieving 70 per cent local content requirement, and upfront minimum capital investment of $50 million. In fact, the lifting of quantitative restrictions on imports is expected to bring more international players to India.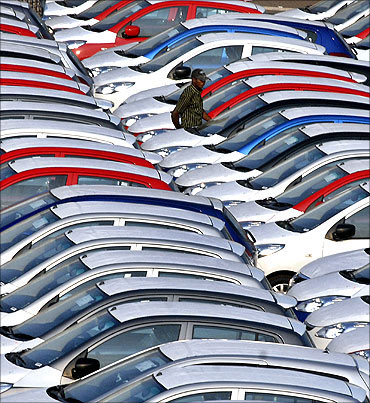 Now Chennai, on fast track.
In Public sector front a Heavy Vehicles Factory is also established in Avadi (23 km Northwest of Chennai) in collaboration with Russia to produce military related vehicles. Avadi also boasts of Combat Vehicle Research & Development Establishment (CVRDE), a new engine testing facility.
Chennai is now the most preferred destination for all the leading Auto manufacturers. The major reason obviously is the people. People of Tamilnadu are among the best skilled workers worldwide. That explains why Tamilians are always preferred over other people worldwide, India notwithstanding.
Tamil people are looked upon for their excellent professional work culture and social culture. Their committed and knowledge involvement make them the most effective and productive work force. No wonder the world comes to Chennai. When Chennai provide such ready knowledgeable, skilled, and congenial work force, all other places are a compromise. Infrastructure and Government support are beside the point. According to Bloomberg L.P., India surpassed China as Asia's fourth largest exporter of cars in 2009.As of 2010; India is the second fastest growing automobile market in the world; manufacturing more than 42 million passenger vehicles and more than 1.5 million cars. At the current rate of growth of the Industry in India is expected to top the world by 2050 with the projected volumes growing up to 611 million vehicles. Chennai is expected to contribute very significantly to India's car manufacturing industry and accounting for 60 per cent of the country's automotive exports.
With BMW, Volkswagen, Nissan have recently decided to set up their car assembly plants in Chennai, German Major Benz and Ferrari coming to Chennai are not faraway. And India included in the Formula One map thanks to Vijay Mallya, Chennai will become a great destination for Global Automobile Industry. Chennai has all the ingredients necessary, with Coimbatore supporting with world class foundries, to go over drive to become the best place for Manufacturing of Automobile and Technological products. It will not be exaggerating if Chennai dream of making to change of Detroit being called as 'Chennai of America'.