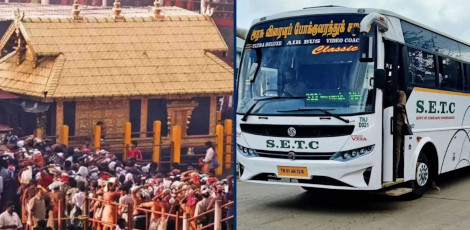 <!— LinkAdsResp16Jun2017 —>
On the occasion of the gran`s Mandala Poojai and Makara Vilakku poojai in Sabarimalai Lord Sri Ayyappan temple, special buses are to be operated from Chennai!
Mandala Poojai is scheduled at Sabarimalai from 16th November until 27th November and Makara Vilakku Poojai is to be performed from 30th December until 19th January.
With the advent of the sacred and holy month of Tamil Calendar Month Karthigai during which various special poojas and festivals are to be observed, there has been a phenomenal increase in the number of devotees visiting Sabarimalai for Darshan of Lord Sri Ayyappan. Devotees, not only from within the State of Kerala but also from velour other states including the neighbouring states are visiting in large numbers!
It is worth noting here that there were lots of restrictions in the last 2 years due to the raging coronavirus pandemic. As such, with all restrictions relaxed in the prevailing season, there has been an outstanding increase in the number of devotees visiting Sabarimalai.
As such, additional special buses and trains are being operated from various places to Sabarimalai!
Special trains are operated from Chennai to Ernakulum for these devotees!
This weekly special train (06068) will start from Ernakulum Junction on 28th November, 5th, 12th, 19th, & 26th December, and 2nd January, (all Mondays) at 1.10 PM and reach Tambaram the next day at Noon (Tuesday).
On the return trip, the weekly special train (06068) will start from Tambaram on 29th November, 6th, 13th, 20th, & 27th December at 3.30 PM and reach Ernakulum Junction the next day (Wednesday) at Noon.
This train will start from Tambaram and travel via Villupuram, Mayiladuthurai, Kumbakonam, Thanjavur, Trichy, Dindigul, Madurai, Virudhunagar, Rajapalaiyam, Thenkasi, Sengottai, Punalur, Kollam, Chenganur, and Kottayam to Ernakulum.
Several additional special buses are also being organized from the State of Tamil Nadu to Sabarimalai!