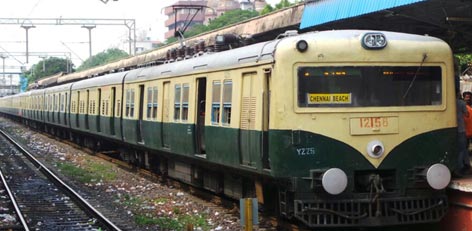 <!— LinkAdsResp16Jun2017 —>
Unaware about the cancellation of certain EMU services, many passengers were stranded at various suburban stations in Chennai.
It is well known that senior officers from Southern Railways or SR have been busy in organising a cleaning campaign, cleaning the rakes of VB trains at major stations like Central railway station and Egmore railway station on Sunday. This cleaning was carried out to commemorate Gandhi Jayanthi.
At the railway stations in places like Tambaram etc, many passengers gathered as they didn`t know about the cancellation of the trains. There was widespread confusion and inconvenience as the cancellation of EMU services didn`t reach many passengers.
It is worth mentioning here that only after reaching the railway stations, the passengers came to know about the cancellation of EMU services (between 10:35 am and 3pm on Sunday & Monday) due to the ongoing engineering works. The passengers took other options of transport to go to their destinations in the city. THe cancellation of EMU led to overcrowding at the bus stops in localities like Pallavaram, Chromepet and Tambaram etc.
The railway department`s maintenance works plus the up-gradation of the railway tracks etc have been responsible for the cancellation of the suburban electric trains on Sunday and today.
14 minute miracle VB cleaning session:
It must be taken into account that officials from SR took part in a 14 minute VB cleaning session that involved more than 12000 volunteers including railway officers, school/college students, scouts/guides, general public, train passengers etc. At several stations of SR across Chennai, the cleaning campaign was organised.