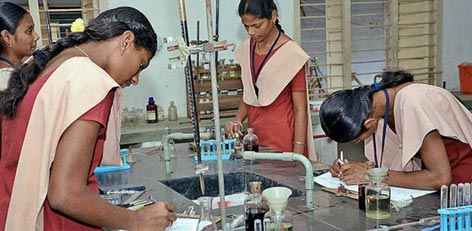 <!— LinkAdsResp16Jun2017 —>
A time extension has been given to the students writing the 10th Standard Public Examinations for practical examinations until 31st March (which is tomorrow, Friday) in Tamil Nadu.
The Public Examinations for the 10th Standard are set to commence in Tamil Nadu on 6th April. The State Government Board for Examinations has emphasized that practical examinations for Science Group students must be organized and conducted at their respective schools.
Accordingly, practical examinations were conducted over the last two weeks in government schools, government-aided schools, and private schools.
However, a complaint has arisen that slow-learning students are being neglected in order to achieve a 100% success rate in the Public Examination results. As a result, many students have not been permitted to attend the practical examinations.
In response, the Director of the Government Examination Board, Sethurama Varma, has sent a circular to all Chief Education Officers stating that "It was announced that the Science practical examinations for 10th Standard students must be conducted between 20th March and 28th March. Giving due consideration to the student`s good health, the time extension for the practical examinations has been given until 31st March (which is tomorrow, Friday).
Therefore, all Chief Education Officers must pay special attention to ensure that all school students who have not attended the practical examinations so far participate in the practical examinations."