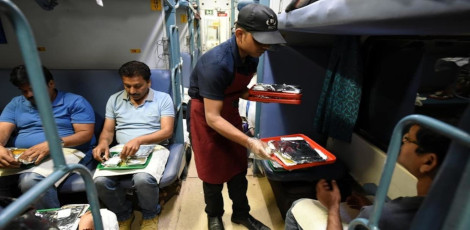 <!— LinkAdsResp16Jun2017 —>
Railways already have the facility to receive orders for food online. Now, this has advanced further for the passengers to order and book their food delivered during travel.
WhatsApp number has also been released by the Railways for ordering food!
As per this, the Railways is offering the `E-Catering` Service through the Indian Railways Catering and Tourism Company (IRCTC).
So, the passengers/users of this facility can have the App along with a WhatsApp number to order food.
This Business WhatsApp number is : +91 87500 01323.
How to order?
In the first Phase, click the link: www.catering.irctc.co.in.With this, the passenger will receive the message of Business WhatsApp number to select the E-Catering Service. With this, the passengers can select and order the food items available at the selected Railway Station.
In the second Phase, the WhatsApp number will facilitate 2-way communication. With the AI (Artificial Intelligence) Power Support, any question regarding the E-Catering could be taken and answered and register the booked items!
Presently, this WhatsApp communication and booking facility has been set up in some selected train services.
Later, after assessing the feedback on this facility from the train passengers, this WhatsApp Food Order Facility will be introduced in all other trains as well!
In this feature, it can be noted that one need not download the IRCTC App for ordering food through WhatsApp!