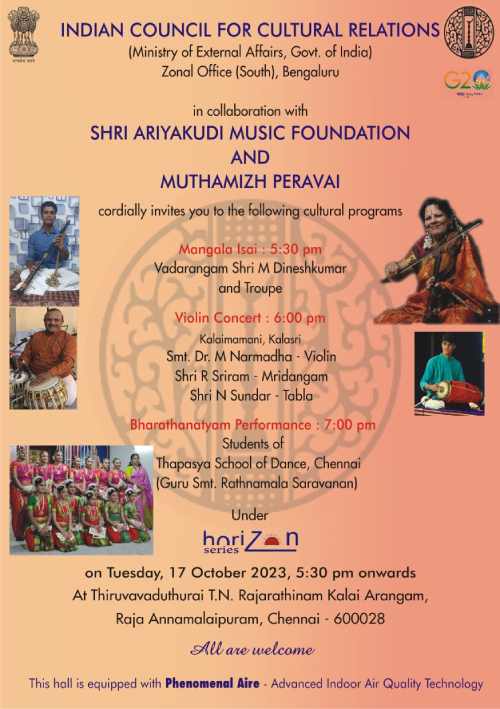 <!— LinkAdsResp16Jun2017 —>
Prepare to be captivated by a delightful evening of cultural performances at the Thiruvavaduthurai T.N Rajarathinam Kalai Arangam in Raja Annamalaipuram, Chennai. This enchanting program, hosted on Tuesday, October 17, 2023, from 5:30 pm onwards, promises to be an artistic treat like no other.
The event kicks off at 5:30 pm with "Mangala Isai," featuring the mesmerizing melodies of Vadarangam Shri M. Dineshkumar and his talented troupe.
At 6:00 pm, the stage will be graced by the renowned Kalaimamani Kalasri Dr. M. Narmadha, a virtuoso of the violin, accompanied by the rhythmic beats of Shri R. Sriram on the mridangam and the melodious notes of Shri N. Sundar on the tabla.
Bringing the evening to a spectacular close at 7:00 pm will be a graceful Bharatha Natyam performance by the students of Thapasya School of Dance, under the guidance of their revered Guru, Smt. Rathnamala Saravanan.
This cultural extravaganza is made possible through the collaborative efforts of the Indian Council for Cultural Relations (ICCR, Ministry of External Affairs), the Shri Arikyakudi Music Foundation, and Muthamizh Peravai, Chennai, under the Horizon series.
Join us for an evening that promises to be a celebration of art, culture, and talent, as we come together to enjoy these captivating performances.