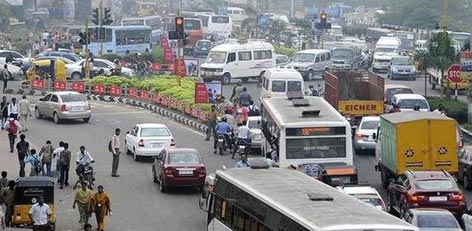 <!— LinkAdsResp16Jun2017 —>
On the Rajiv Gandhi Salai (OMR) at Thoraipakkam Junction near BSR Mall, rain water drain would be constructed by digging the soil. Beginning from today 27th April till 26th of May construction works would be carried out. As a result, there are now some changes made in the traffic here.
According to a press release from the Chennai traffic police it was clear that all the light weight vehicles going from 200 feet radial road to SRP Tools must take a left turn at Pillayar Koil street junction to Panchayat Road and then must turn right to go to OMR Road through Corporation Road.
It is noteworthy that all light vehicles coming from OMR Sholinganallur must take a left turn at Thoraipakkam junction to reach 200feet radial road and then must take a right turn at Pillayar Koil Street junction to go to Panchayat Road. Then, these light vehicles must take a right turn at Corporation Road and take a left turn to go to the OMR Road. Point is that all the heavy vehicles and buses etc could go straight on both sides of the OMR Road without taking any turn.
The press release added that once the work starts in OMR all the light vehicles going towards OMR Sholinganallur and 200 feet road must take a right turn at the Corporation Road junction and turn left at Pillayar Koil Junction and then turn right at Thoraipakkam junction to got to OMR Sholinganallur. These vehicles could go to Kamakshi Hospital by taking a right turn at Pillayar Koil junction and through the 200 feet radial road.