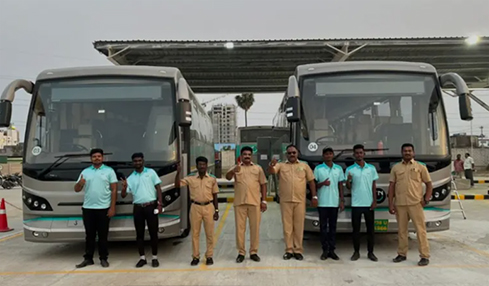 <!— LinkAdsResp16Jun2017 —>
NueGo, a prominent electric bus service provider, has made a grand entry into the South India region, offering its sustainable transport services to select cities. The company aims to revolutionize public transportation with its state-of-the-art electric buses, ensuring a seamless travel experience while prioritizing environmental consciousness. NueGo has unveiled three new routes for its bus services: Chennai-Pondicherry, Chennai-Bangalore, and Chennai-Tirupati, in addition to the existing Hyderabad-Vijayawada and Bengaluru-Tirupati routes.
Passengers in Chennai can conveniently board the NueGo buses at the Koyambedu terminal, while in Pondicherry, the services will operate from the PRTC Bus Stand. The RTC Bus Stand in Tirupati will serve as the starting point for buses heading towards this spiritual destination, and in Bangalore, passengers can embark on their journeys from the Majestic terminal. With strategic boarding points and well-planned routes, NueGo aims to provide efficient and hassle-free travel experiences to its customers.
To celebrate the launch of the new routes, NueGo is offering an attractive introductory price for travel between Chennai and Tirupati, as well as Chennai and Pondicherry. Seats on these routes start from an affordable price of Rs.319, allowing passengers to experience the comfort and convenience of electric bus travel at an affordable rate.
NueGo`s electric buses are equipped with cutting-edge technology, offering a host of benefits to passengers. Apart from reducing carbon emissions and contributing to a cleaner environment, these buses prioritize passenger comfort and safety. With spacious seating arrangements, climate control features, and onboard amenities, NueGo is determined to provide a superior travel experience that surpasses traditional modes of transportation.