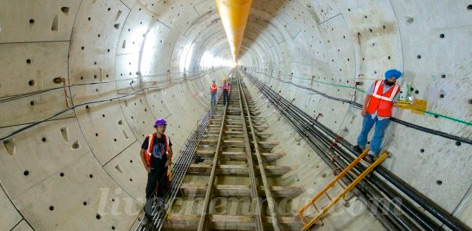 <!— LinkAdsResp16Jun2017 —>
In a major development, Chennai`s metro rail is gearing up to commence tunnelling operations beneath Chetpet Lake by the end of this year. As part of the second phase of the project, a shaft will be constructed at Chetpet metro station within six months to house the tunnel boring machine (TBM).
Chetpet metro station is an integral part of the 45.8km Corridor-3, which stretches from Madhavaram Milk Colony to Siruseri Sipcot. Officials on-site revealed that excavation work for the shaft at Chetpet metro station has already begun and is expected to take six months to complete. Following this, the assembly of the tunnel boring machine is estimated to require an additional month. With the projected timeline, tunnelling operations are anticipated to commence before the year`s end.
"The boring machine designated for this shaft has successfully undergone the factory acceptance test and is currently stationed at our facility," confirmed an engineer involved in the project. M A Siddique, the managing director of Chennai Metro Rail Limited, had previously announced that Phase-2, covering a distance of 118.1km, will be completed in stages between 2026 and 2028.
At Chetpet station, the tunnel boring machine will drill through the soil beneath Chetpet Lake at a depth of approximately 22m to create a tunnel. Subsequently, it will reach KMC metro station, planned on the road opposite Kilpauk Medical College and Hospital, where the tunnel will be situated at a depth of around 29m. The tunnelling distance between the two stations will span 838m.
This week, engineers at the Chetpet metro station initiated the assembly process for the tunnel boring machine within the designated shaft. The machine is scheduled to commence tunnelling operations in July, covering a distance of 845m from Chetpet metro station to Sterling Road junction metro station. Notably, Chetpet metro will serve as an interchange point, connecting with the Chetpet suburban train station.
Corridor-3, which traverses the eastern regions of the city, facilitates connectivity between suburban areas such as Madhavaram Milk Colony and Old Mahabalipuram Road, and key city areas including Chetpet, Nungambakkam, Mylapore, and Adyar.