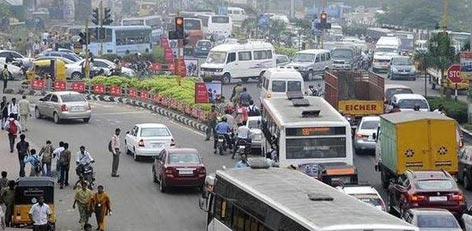 <!— LinkAdsResp16Jun2017 —>
In order to extend the flyover from the South Usman Road to the CIT Nagar 1st Main Road, the Greater Chennai Traffic Police (GCTP) have diverted traffic in T Nagar. From January 28 to September 27, the following traffic changes will be in effect.
According to a press release, vehicles traveling on South Usman Road heading to CIT Nagar 3rd Main Road would be diverted via Kannamapet Junction and South West Boag Road.
MTC buses intending to go to the South Usman Road from Usman flyover will be diverted via Madley Junction - Burkit Road - Mooparappan Street - Link Road -Nandhanam Junction.
MTC buses from Aranganathan subway plying on the South Usman Road via Kannamapet junction that intend to go to CIT Nagar 3rd Main Road will be diverted via West CIT Nagar North Street.
The vehicles can ply on South Usman Road from Anna Salai CIT 1st Main Road to T.Nagar Bus Terminus as usual.