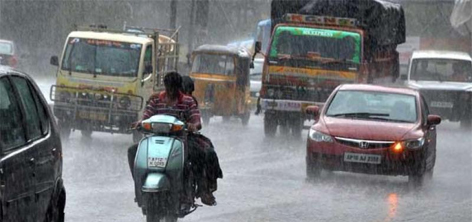 <!— LinkAdsResp16Jun2017 —>
The Department of Traffic Police of the Chennai Metro City has emphasized that the citizens MUST UNDERTAKE LONG DISTANCE TRAVEL ONLY FOR ESSENTIAL REASONS!
Cyclone Mandous currently prevails at 270 km southeast of Chennai Metro City. It has weakened from a very intensive cyclone to a normal cyclone!
The Chennai Regional Meteorological Centre has informed us that with the weakened status, cyclone Mandous may cross the coast via Pudhuchery-Sriharikota near Mamallapuram tonight (Friday, 9th December) or early morning the next day!
Chennai Regional Meteorological Centre has informed us that due to this, there are prospects of very heavy downpours in the districts of Kanchipuram, Chengalpattu and Villupuram. Further, there are prospects for heavy to very heavy rain in the districts of Chennai and Thiruvallur.
Due to the reasons mentioned above, the Department of the Chennai Traffic Police has cautioned the citizens to undertake travel only for very essential reasons!
In this notification, it is mentioned:
"FOR PUBLIC ATTENTION!
DUE TO THE CYCLONE MANDOUS, THERE HAS BEEN HEAVY RAIN WITH HIGH-SPEED WINDS, VEHICLE DRIVERS AND PASSENGERS MUST UNDERTAKE TRAVEL ONLY FOR VERY ESSENTIALREASONS!"