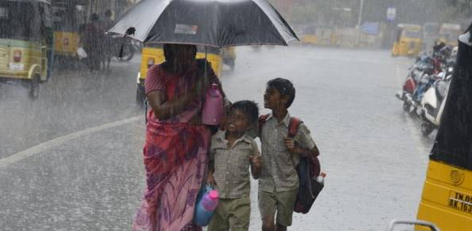 <!— LinkAdsResp16Jun2017 —>
Due to persistent heavy rains on Tuesday, attributed to the Low Pressure Area (LPA) in the Bay of Bengal, the Chennai District Collector has declared the closure of schools in the region on Wednesday. The onset of the Northeast monsoon has led to several coastal districts experiencing continuous heavy rainfall over the past few days.

District Collector Prabhu Shankar has announced a holiday for schools and colleges tomorrow (November 15) in Thiruvallur district as a precautionary measure against continued heavy rains.
In response to heavy rains, educational institutions in Puducherry have been preemptively closed for tomorrow, November 15, ensuring the safety of students and staff.
Meteorological Update:
The Chennai Meteorological Department has issued a forecast indicating the likelihood of continuous heavy rainfall in Tamil Nadu and Puducherry over the next three days. A new low-pressure area has formed in the Southeast Bay of Bengal, contributing to this weather pattern.
Chennai Weather Outlook:
Chennai residents can expect cloudy conditions persisting for the next 48 hours, with the possibility of moderate rain in certain areas. The Meteorological Department advises citizens to stay informed and prepared.
Cyclonic Winds Warning:
Additionally, a cautionary alert has been issued regarding cyclonic winds, expected to reach speeds of 40-45 kmph in the Southwest and Central-West Bay of Bengal. Residents in these areas are urged to take necessary precautions.
Water Levels in Lakes
As a result of the relentless downpour, 64 lakes in Chennai, Kancheepuram, and Chengalpattu are now filled to capacity. Among Chennai`s 16 lakes, four have reached their maximum level, while the remaining 12 are 99 percent full.

Emergency Helplines
To address monsoon-related grievances and emergencies in Tambaram, the corporation has established helpline numbers. Individuals can reach out for assistance through the following contacts:
- Helpline 1: 1800 425 4355
- Helpline 2: 1800 425 1600
- WhatsApp: +91 8438353355
Residents are encouraged to use these helplines to report issues and seek assistance for any challenges arising from the heavy rainfall. Stay safe and follow local advisories.