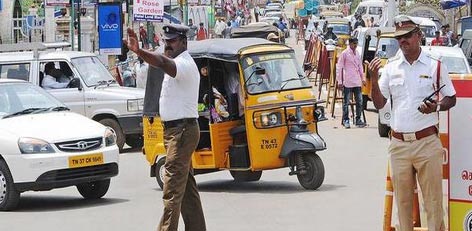 <!— LinkAdsResp16Jun2017 —>
The Greater Chennai Traffic Police (GCTP) have cracked down on traffic violators in the city with the help of traffic constables posted at junctions. In the last 22 days, around 42,000 traffic violators were booked and fined for various offenses such as stop-line violations, helmetless riding, and riding on the wrong lane, among others.
The traffic constables captured the violations on their phone cameras and submitted them, after which cases were registered. Among the various offenses, stop-line violations were the most common, with 17,043 violators booked, followed by 13,484 violators for helmetless riding, 7,564 violators for riding on the wrong lane, 3,511 violators for jumping signals, and 1,103 violators for riding vehicles with defective number plates.
The GCTP has been using remote controls to operate 186 out of the 312 traffic signals in Chennai. The crackdown at junctions has proved to be effective in catching violators who would otherwise go unnoticed due to the officers` busy schedules.
Additionally, in a special drive conducted to curb drunken driving, the GCTP disposed of 7,286 pending cases and collected Rs. 7.53 crore as fine in the last two months. The GCTP`s strict measures aim to improve road safety and reduce accidents in the city.