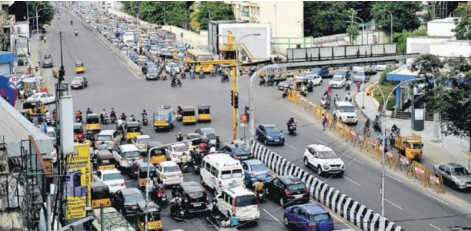 <!— LinkAdsResp16Jun2017 —>
Motorists in Chennai travelling through the highly congested roads having metro rail works have now got a reason to rejoice!!
It is now mentioned that the construction of pillars for the elevated corridors would get over in a year and the barricades occupying the roads would be removed.This would ease the traffic congestion and the motorists would find it easy.
In several busy locations in Chennai like Porur, Iyyappanthangal, Kattupakkam, Karayanchavadi and Poonamallee etc construction of the pillars would be completed first. These places cater to heavy traffic especially in the peak hours. Soon, the barricades would be pushed near the concrete pillars present at the centre of the roads. By this, the motorists would have more space. It is worthy to mention here that these locations mentioned above would be the part of 118.9km metro phase-2 and it would be ready by 2026.
The MD of CMRL, Mr. MA. Siddique explained that the work would be completed by 2026 but in another one year pillar construction works would get over. He added that not much space would be required. He hinted that the barricaded area would be reduced and more space would be provided for free traffic movement. The 10km stretch between Porur and Poonamalle would be opened first by the CMRL by the middle of 2025.This opening would be done along with the maintenance depot at Poonamallee bypass.
Mr. L. Girirajan, spokesperson of CMRL mentioned that by the end of 2023 the space occupied by the blue barricades would be reduced along the 10km Porur- Poonamallee stretch. After a series of testing on the elevated lines, the construction of elevated metro stations would begin. It was brought out by an officer from CMRL that during the construction of the metro station not much road space would be needed.
It must be noted that the construction of an underground corridor of 42.6km in phase-2 would take more time for completion. Currently, the tunneling works have started only in Madhavaram in north Chennai. In important locations such as Greenways Road, Chepet and at Light House in Marina Beach the tunnel boring machines would start their operation.