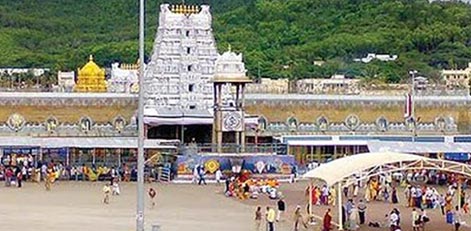 <!— LinkAdsResp16Jun2017 —>
As a lunar eclipse is occurring on 9th November, the corridors of the famous Lord Venkateswara Temple in Tirupathi are to remain closed for 12 hours!
A lunar eclipse is scheduled to occur from 2.39 PM to 6.19 PM on 8th November.
As such, including the Lord Venkateswara Temple in Tirupathi, all Thirumalai-Tirupathi Devasthanam (TTD) temple corridors will be closed at 8.40 Am and will open at 7.20 PM.
Once the eclipse concludes, the whole temple will be cleaned and then only the devotees are to be allowed for Darshan.
As such, the other regularly scheduled events such as Srivari Endowment Darsha, Rs. 300/- Special Darshan, Arjitha Sevai, Senior Citizens` Darshan, and Darshan for the Differently-abled, usually conducted on normal days, are cancelled on 8th November due to the lunar eclipse.
Further, the issue of tokens for Sarva Darshan is also cancelled. The devotees visiting Tirupathi can have Darshan only by waiting at Vaikuntam Queue complex-2 in the queue and have Darshan ONLY AFTER THE TEMPLE CORRIDORS ARE OPENED!
As there would not be any cooking during the lunar eclipse period, the free food service at the Annadhanam Centre IS ALSO STOPPED!