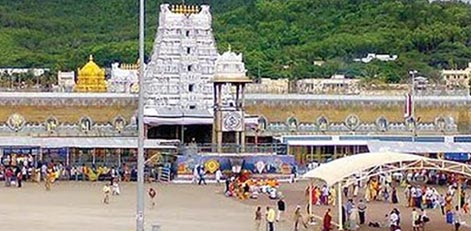 <!— LinkAdsResp16Jun2017 —>
The VIP Darshan Timings are to be changed in the Tirupathi Lord Venkateswara Temple from 1st December!
The Chief Executive Officer (CEO) of the Thirumalai-Tirupathi Devasthanam Board (TTD), Dharma shared in an interview at the Thirumalai Annamaiyah Bhavan:
"Thirumalai Tirupathi Devasthanam Board stopped the issue of `Free-time allotment Darshan scheme from 12th April this year.
A whole lot of devotees appealed for the Free-time allotment tickets issue to be restored! In the subsequent TTD review meeting, it was decided to resume the Free-time allotment of Darshan tickets.
As such, the issue of Free-time allotment Darshan tickets would be resumed from 1st December at Tirupathi Bhoodevi Complex, Srinivasam Devotees waiting for the lodge and the 2nd Choultry (Chathiram) from 1st November. These tickets would be issued till they get exhausted!
20000 to 25000 tickets would be issued on Saturdays, Sundays, Mondays, and Wednesdays and 15000 tickets would be issued on all Tuesdays, Thursdays, and Fridays.
To reduce the waiting for the devotees who come for direct Darshan, the VIP Darshan timings have been changed from 1st November by the Religious Endowment Committee.
As such, the waiting time for the free Darshan devotees would get reduced and also reduce the overcrowding in the waiting halls!
For the devotees who have the Darshan Tickets issued by Srivari Endowment Foundation, lodging facility will be provided at the Madhavam House in Tirupathi!"