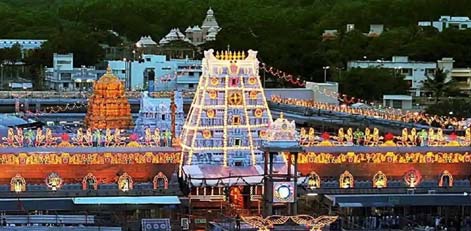 <!— LinkAdsResp16Jun2017 —>
The Thirumalai Tirupathi Devasthanam Board (TTD) considers that thousands of devotees are likely to visit Tirupathi because of the upcoming sequential holidays until the 15th of August!
SO, TTD has appealed to the citizens TO BOOK THE DARSHAN TICKET AND LODGING IN ADVANCE IF PLANNING A VISIT TO TIRUPATHI!
Though the devotees` crowd level has somewhat reduced after the summer vacations, the weekend crowd of devotees will persist along with the Independence Day holiday crowd of devotees! As such, the high devotee crowd level will persist!
Further, the sacred Tamil calendar month of Purattasi commences on 18th September and concludes on 17th October!
As this is considered a very sacred period, there are strong prospects for a teeming crowd of devotees visiting Tirupathi in this period as well!
Considering the above prospects of persisting high crowd level of devotees in these periods, the Thirumalai-Tirupathi Devasthanam Board (TTD) has appealed to the citizens: "Senior Citizens, parents of infant children, and differently-abled MAY PLEASE REFRAIN FROM VISITING TIRUPATHI!
IT HAS FURTHER APPEALED TO THE DEVOTEES WAITING IN THE VAIKUNTAM WAITING HALL FOR DARSHAN OF LORD SRI VENKATESWARA AND IN THE QUEUES FOR DARSHAN MUST KEEP PATIENCE WHILE WAITING!