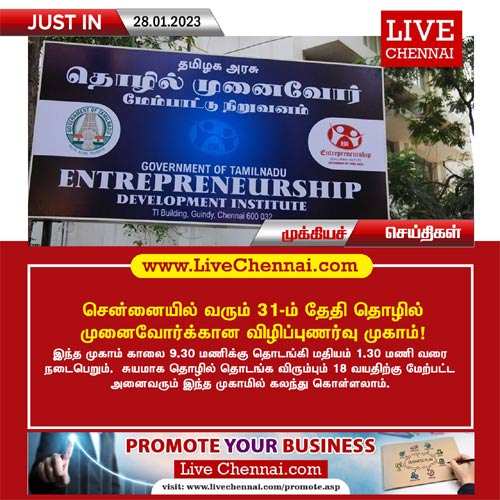 <!— LinkAdsResp16Jun2017 —>
An Entrepreneurs` Awareness Camp is scheduled to be conducted in the Chennai Metro City on 31st January at the Entrepreneurs Development and Innovation Institute (EDII) Complex!
This is scheduled to be conducted from 9.30 AM until 1.30 PM.
It is announced that all citizens above the age of 18 years interested in starting their own business can participate in this camp.
In the first Phase, aspects such as the benefits of starting one`s enterprise, Business opportunities, selecting the right business field, and the details of various monetary and other assistance given by the State/central governments and other agencies will all be explained in this camp!
Once this first phase is completed, the names of the citizens interested in entrepreneurship will be registered and they will be invited to the NEXT PHASE OF TRAINING!
The next phase of training for the entrepreneurs will be of 3 days` duration when features such as preparing the project report, and the training for development for the entrepreneurs, and counseling will be given for required financial assistance.
The Entrepreneurs` Development and Innovation Institute (EDII), jointly with the district Industry Centres, is regularly conducting a 5-day training for entrepreneurs. With this special training, entrepreneurs can get an exemption from compulsory training insisted on by agencies offering financial assistance! As such, a detailed presentation on Government policies and planning in this field and the procedure to avail of these offers will be provided in this training!
For further information:
Entrepreneurs Development and Innovation Institute telephone and mobile phone numbers: 044-22252081, 22252082, 9677152265, 8668102600.