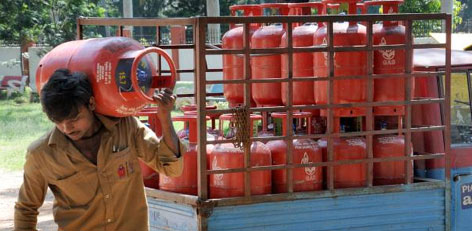 <!— LinkAdsResp16Jun2017 —>
THERE ARE NO DELIVERY CHARGES FOR THE DELIVERY OF A NEW LPG COOKING GAS CYLINDER!
THE DELIVERY STAFF EXPLAINS: Any extra payment made will be on the consumer`s own and will be paid as tips AND PROCEDURALLY, THERE ARE NO DELIVERY CHARGES!
In case the consumer decides to the dealer`s shop and takes delivery, the charges will be reduced!
For example, one LPG cooking gas cylinder costs Rs. 965.50. If this is taken from the Gas Agent`s place, AROUNF Rs. 17/- WILL BE REDUCED AND THE BUYER NEEDS TO PAY Rs. 948.50!
The Delivery staff further explains that is their duty to deliver the new cylinder and also fit the same to the gas stove and check for any leakage! NOTE THAT NO CHARGES NEED TO BE PAID FOR THIS SERVICE!
In case the delivery person asks for more or behaves improperly, the complaint can be made to the concerned Gas Agent!
In case no action is taken even after this, the customer needs to call the Customer Service Centre and explain the same!