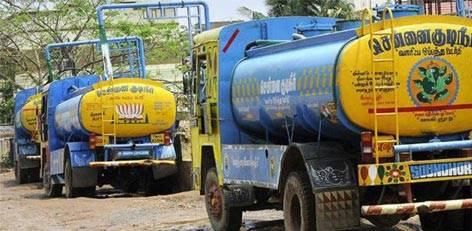 <!— LinkAdsResp16Jun2017 —>
For the last 3 days, the lives of more than 6000 residents belonging to localities like Raja Annamalai Puram, Greenways Road Extension & Mandaveli etc in Chennai have been difficult. The reason for this was due to the unavailability of metro water supply. The residents till now do not know when they would get the metro water supply. The authorities concerned haven`t yet informed these residents regarding the metro water supply.
According to a resident from Greenways Road Extension, the officers from the MWD have mentioned that for 24 hours water supply would not be there due to the pipeline connectivity work. He added that even 3 days after the announcement from MWD the residents did not get the water supply. It was later mentioned by some sources belonging to the MWD that water supply would start soon.
It was later explained by Mr. J. Saravan, a hydro-geologist that localities like R.A. Puram, Greenways Road Extn and Mandaveli were shallow aquifer areas. He added that water would be available at 50 ft to 60ft depth only and saline water would only come out if the borewells were sunk beyond this depth. The flowing of Buckingham Canal closer to Mandaveli and RA. Puram areas has been responsible for the salinity of the water.