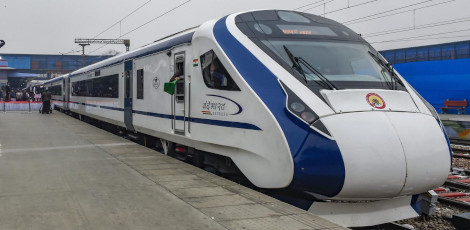 <!— LinkAdsResp16Jun2017 —>
The first public service Vande Bharath Superfast Express between Chennai and Coimbatore is scheduled to be inaugurated by Prime Minister Narendra Modi on the 8th of April (Saturday, tomorrow).
This Vande Bharath Superfast Express will operate via Katpadi, Jolarpettai. Salem and Tirupur on both the onward and return trips.
As such, the booking (reservation) for the Chennai-Coimbatore Vande Bharath Superfast Express has commenced today (Friday, 7th April). For travel of 6 hours, the train fare has been fixed from Rs. 1057/- to Rs. 2310/-.
The Vande Bharath Superfast Express train (20644) between Coimbatore and Chennai Central will start from Coimbatore at 6.00 AM and will Chennai Central Station at 11.50 AM.
On this trip, it will reach Tirupur at 6.35 AM and start at 6.37 AM. It will reach Erode at 7.12 AM and will start again at 7.15 AM to reach Salem at 7.58 AM and will start again at 8.00 AM.
On the return trip, the train between Chennai Central and Coimbatore Vande Bharath Superfast Express (20643) will start at 225 PM from Chennai Central Station and will reach Coimbatore at 8.15 PM. On this trip, the train will reach Salem at 5.48 PM will start at 5.50 PM and reach Erode at 6.32 PM. It will restart at 6.35 PM and reach Tirupur at 7.13 PM and will restart from here at 7.15 PM.