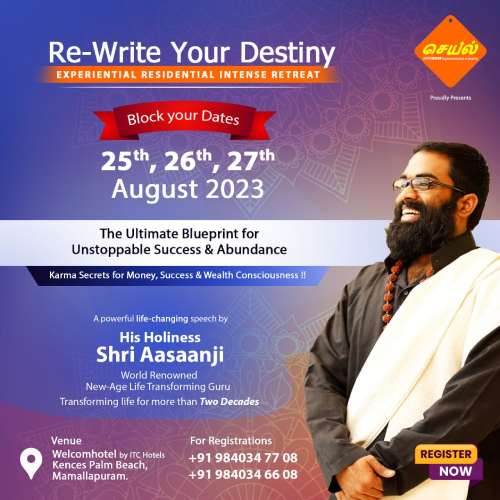 <!— LinkAdsResp16Jun2017 —>
Today, we are excited to introduce "Karma Nivarthi Sadhana," a life-changing 3-day residential program led by the esteemed spiritual teacher, His Holiness Aasaanji. This extraordinary event, presented by Seyal, will take place from August 25th to 27th, 2023, at the scenic Welcom Hotel by ITC (Kences Palm Beach) in Mahabalipuram.
"Karma Nivarthi Sadhana" is designed to empower individuals and equip them with the tools to manifest abundance in their lives. His Holiness Aasaanji, a globally acclaimed contemporary spiritual teacher, will guide participants on a non-religious path to success, leading to profound transformation.
This program offers a unique opportunity to tap into your full potential and experience life-altering shifts. By attending, you will gain insights, techniques, and wisdom that can propel you towards a path of personal and professional success.
To make this transformative retreat even more accessible, we are pleased to offer a Special BNI offer. Contact Venkatesh In at +919840346608 for further details.
Don`t miss out on this extraordinary chance to rewrite your destiny and embrace abundance.
Register now at https://www.seyal.online/index.php/Author_controller/AashaanjiupcommingEvents.